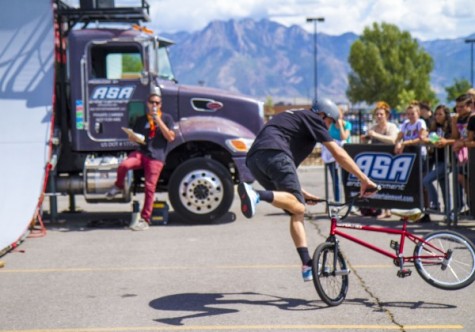 John Diaz, Reporter

September 26, 2014

Filed under News
This year's Anti-Bully Assembly took place on Friday, September 5, at the back of the school, where BMX riders performed stunts on a ramp, and the audience would watch behind a fence covering the stage.
February 22, 2019
En el año 2001, el Doctor José Enríquez dio inicio a un programa llamado Latinos In Action, o Latinos en Acción, impartiendo la primera clase en la Escuela Secundaria Timpview, en Provo. Esto dio paso a un gran movimiento latino a lo largo de muchas escuelas de Utah y de todo el país. El propósito del Dr. Enriquez no fue sólo crear una organización, sino «convertir estudiantes latinos en los líderes que son capaces de serlo».
Students can't join off-campus sports
February 22, 2019
Soccer is the most popular sport on the planet. According to an article by Benjamin Elisha Sawe titled "The Most Popular Sports in the World" on worldatlas.com, "It is estimated that more than half of the world's population consider themselves to be association football (soccer) fans. The sport enjoys an estimated 4.0 billion person following, and a global sphere of influence."
February 22, 2019
It's 1960, the world is about to receive it's first taste of metal from none other than The Beatles. Fast forward eight years to Black Sabbath, the first metal band, then another three for some AC/DC. Then keep on going, witnessing Ozzy Osbourne, Marilyn Manson, Slayer, Slipknot, and so much more. Finally it's 2019, and thousands of metal bands whether big name or starter bands are all over the world, all because of one band 59 years ago
Loading ...