Special effects Makeup used to create new worlds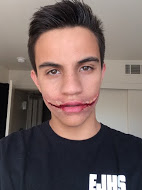 In 1968, director George A. Romero created Night of the Living Dead, the stereotypical zombie movie that set the standard for every zombie movie to follow. Though cinematics were simple, Empire magazine claims that the movie is "…the pinnacle of zombie movies."
 More recently, the award winning tv series The Walking Dead  has championed the zombie world, bringing home the 2012 Primetime Emmy for Outstanding Prosthetic Makeup for a Series, Miniseries, Movie, or Special. Armed with his special effects makeup tools, makeup artist, Greg Nicotero, transforms ordinary humans into macabre zombies that are fashioned with the  bloodiest wounds makeup can create.
 Within the world of the reapings, tributes, and Quarter Quells, the filmmakers of Hunger Games use beauty special effects makeup to bring Suzanne Collins' Capitol City. to life. Through a combination of pastel colors and fiery dresses, the tributes' personal styles "reflect[s] the flavor of the district."
 In all of these examples, filmmakers demonstrate the power of special effects makeup by using it to create imaginative worlds that transcends the ordinary. Therefore whether it be creating fantasy creatures or transforming 20-year-old actors into 70-year-old characters, SFX Makeup possess the potential to extend the reality of day-to-day life.
 Beyond the silver screen, special effects makeup is becoming increasingly popular as YouTube and Pinterest how-tos teach average individuals to master the art of world building.
 On the SFX YouTube channel, Emma Pickles, tutorials range from real life Disney princesses to gruesome Halloween how-tos.
 In the channel's bio, Pickles writes, "we like to encourage the idea of seeing makeup as art and something to have fun with, not just as a tool for beauty."
 At Taylorsville, students are also expanding their skills in this art form. Tristan Valdez, a sophomore at the school, has been experimenting with SFX for a year, something that started with a pinterest inspired Halloween look.
 He said that even though some creations require advanced tools such as latex, most of Valdez's supplies consist of simple, household things such as toilet paper, brushes, ear swabs, and scissors.
 If students are interested in getting involved with special-effects makeup, there's a vast variety of options that are available.  
 Valdez said, "Start with smaller makeup kits and get bigger as you get more familiar."
 Art teacher, Ashley Ward, also said that individuals, "must be very careful about how the makeup will impact your skin and other people's skin." Her advice is to avoid cheap material and be educated about the products' effect on the skin.
 Finally, students may rely on the resources made available through the technological world. As the internet continues to expand, how-tos become easier to access. Whether ghoulish looks originate from "pinspiration" or individuals find Beauty SFX via Youtube, these creations can accompany individuals from Comic Con to Halloween dances.
 "It's something not everyone does" said Valdez, "It makes me stand out."