Cheers for crickets, the new protein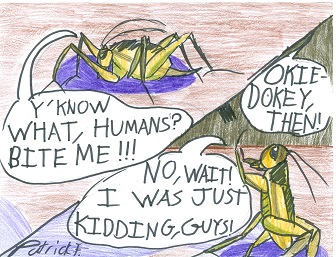 It may sound grotesque but other bugs, insects, and slimy creatures have already been prepared in different ways and have already proven to be appetizing to certain people. An example is escargot (cooked, seasoned, snails). True, they aren't cheap, but luckily they aren't prepared fresh out of the backyard either. People have prepared ways to cook, grind, and prepare different bugs for meals to serve. From crickets to silkworms, crickets are becoming the new "it" protein for most people.
Buying cricket protein items and food sources is a few clicks away on Amazon. Anyone can buy bags of pure ground up crickets or with granola, cranberry, almond just for about $10.00. There is also a chain of restaurants called Wayback Burgers which is sadly not in Utah, serves mint Oreo cricket shakes. Chapul, a cricket protein bar company, has different flavors and sorts of cricket protein bars. There is peanut butter, chocolate, and even different crickets from different countries that they label as their different flavors.
Most students are fitness buffs, some watch their diet, and these kinds of students will eat protein bars, protein shakes anything with enough protein to boost their health or energy. People wouldn't expect bugs to part of their kids lunch. Students from several different high schools across the country are trying to create biodiversity by using crickets as an alternative protein source. A student group at Clark high school in California started to raise awareness for their supposed cause.
Cynthia Shamerzian, a senior in the Clark High Cricket Club, said that this will be an interesting project, "Other student environmental groups usually focus on finding ways to prevent pollution, but that is too mainstream," Shamerzian said. "Our project is new and interesting to students, teachers, parents, friends, anyone and could really help the human diet and the environment." 80% of the world already consumes bugs in their diet.
Cricket bars make up 40% of the protein bar, and each bite contains 5 crickets. Cricket flour contain around 35% more protein than beef jerky. Containing a complete source of this protein, with all essential amino acids crickets are beginning to prove that they really can improve our environment and build a more healthy lifestyle.