Local city business founded on charm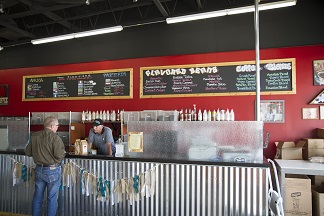 "We shop local." Such a statement inspires images of collared-shirt-hipsters and lifestyles unfettered by capitalistic perusal. Though often presented with a side of hashtags, the phenomenon of local businesses impacts the community in ways that exceed the average person's comprehension.
Consider The Salt Lake Running Company, (headquarter located at 700 E 2454 S) a growing enterprise with three stores in Salt Lake County. On a Wednesday night, the clients at the store on 700 E 2454 S range from college students to middle-aged business people that stop by at the end of their workday. In the corner, an elderly man hunches over his walker and tests his newly fitted running shoes.
Founded over 20 years ago, the company strives to help individuals achieve their fitness goals in the most effective way possible. Whether it be helping customers find the perfect running shoe or by hosting community events (many of which are free,) this locally owned business offers an abundance of resources to those interested in pursuing a healthy life.
As marketing manager, Devaki Murch, said, "Whether you're a great runner or a seasoned runner or a total beginner, it doesn't really matter. We make [races] accessible so people take their strollers or wheelchairs. We really try to make Salt Lake Running Company something that can be your running store."
Down the road from the high school, Hidden Peaks Coffee and Roasting Co. (4879 South Redwood Road) welcomes coffee lovers with vibrant red walls and drinks from around the world. Uponing entering, it's likely you'll find store owner, Derek Hansen, chatting easily with customers in the store.
He said, "I'm a people person […] I've gotten to meet so many friends and really interesting people. You meet a lot of crazy people too. I mean, you open your door to the public and they're all going to come in. That's part of the fun, too, having that. I enjoy it."    
For him, the allure of independent business lies in the felicity available to store owners. Prior to his endeavors in the coffee industry, his days were spent working in corporate jobs, something that required constant travel and time away from family.
"[While] traveling doing business seminars, I'm doing fortune five hundred companies–bringing in billions of dollars– and I'm getting my small percentage to go there and talk to them about different sales and productivity techniques," He said. "Maybe that's selfish, but do what makes you happy and do it for yourself. Don't worry about everybody else's opinions and what they think they should do or what you should be doing. Do what you want to do. Chase your dreams, chase your goal, and you'll be a lot happier."
Regardless of the freedom, however, owners must possess a strong conviction to get their jobs done. As one of the owner of Salt Lake Running Company, Guy Perry, said, "The moment that you're presented with an opportunity, you're immediately presented with obstacles and if you can't find a way around or through those obstacles, then the opportunity is then gone." Throughout the course of Perry's career, creativity and flexibility in the midst of difficulties have made all the difference.
If students are interested in pursuing a local business themselves, owners agree that passion is the key to success. Discovered through hard work and hands on experience, this coveted enthusiasm drives individuals to succeed in their businesses, regardless of the adversity they  encounter.
Hansen said, "You may not be making the money you want, but if you believe in yourself and what you're doing and you know what you're doing is right, it will come. I'm a Karma person–it comes."