Community is strengthened by the Humanity class project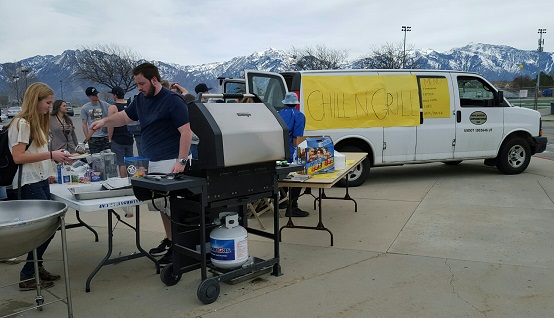 Humanities students' most recent project included goals oriented around strengthening the community through active service and creativity. Guidelines set from the departments' teachers, Stephanie Floch, Rob Eberly and Levi Negley included relatively loose structure for the assignment: target a problem in the community and take [several] weeks to plan and execute a solution.
High school seniors were left to themselves for the most part to helm their projects, among those projects is a range from hallway art movements, to an instructive visit to Vista Elementary.
One project functioned within the school parking lot. March 11th's "Chill & Grill" featured a large white van parked next to a line of students perched on the curb next to an assorted table of veggie kebabs, and grilled meat. The image, though abnormal for a student parking space, stemmed from efforts to collect money and food to supply local homeless shelters. Two food handlers' permits were predetermined for the event, which produced a sum of about $425.
Over the course of a little more than a month, students planned, funded, and personalized their projects.
Senior Humanities student, Pania Clark shares thoughts on her own project, a documentary on the causes of poverty in America. "Going in it was exciting and interesting to learn and see people's experiences," she said. "You really don't see what can happen in our economy. There are so many people struggling, I think we don't realize how easy it is for anyone to find themselves in poverty."
Another film piece documented the harsh reality of homeless Salt Lake citizens. Elias Martinez shares his experience with it, "There were times when we would walk around and say, should we do this or are we just getting ourselves into something we shouldn't be doing? But after talking to a lot of people we found that it was something worth doing." Risks with the project pay off in rich experience and newfound understanding. "These aren't just people who choose to just live on the streets, they actually have purpose in life or they had something they lost. We learned about honestly was how harsh some people can be. And about how good some people can be and how easy it is to lose. . . how easy it is for them to fade out."
One group's project consisted of sharing information on mental health through constructing a 3-D doll-sized house. " it provides information and lets people get more interactive and invested in it. So far we've learned that it's helped some people in surveys that we've handed out," said Sam Merlette, of her project. "Knowing that in a way we've helped the student body understand more, and that we've kind of helped the students cope."
Members on the Chill-n-grill project share positive aspect on the course. Makayla Schmidt said of the teamwork involved, "It's been really eye-opening. Working as a team is really hard sometimes and this has gotten us to collaborate and get everything done. We can't drop out. . . every single one of us [are] dependent on each other." Said Madison Bentley, another member on the project, "I love the humanities program, I think that it's more than just an English/Art class. It's taught me a lot and I feel like everybody should take it."