Evolution of a legend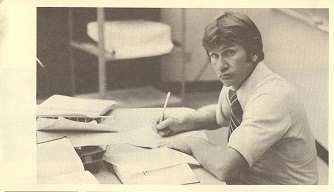 On March 12th, 2016, Mr. Rodney Anderson was honored in the Spirit Week Assembly with the KSL/ Zions Bank Teacher Feature Award. Having taught Math for over 48 years, (plus a half year in Idaho that doesn't count towards Utah retirement) Anderson has been at Taylorsville since it's opening year in 1981. Because of this, his mind represents a living time capsule that's filled with memories of Taylorsville pasts.
"I bump into former students all the time. I can't go anywhere," He said with a smile playing on his lips.
Raised on a small farm in Idaho, Anderson didn't always think teaching would be his lifelong career. When the opportunity first arose to attend college, he entered a pre-Engineering program, but pursued education due to the difficulties encountered in Engineering during the early 60s.
"I guess it started way back in my high school days," he said, "When a teacher by the name of Goldenwoods, who was a math teacher, would have me go to the board because he thought that I could present it where other students could grasp it."
In addition to teaching at Taylorsville, Mr. Anderson spent 12 years at Skyline High where (despite popular belief) he did not teach fellow Math teacher, Mr. Kaelin. Outside of the district, he spent one year teaching at Jordan High School and also spent some time at Bennion and Eisenhower Jr.
Yet despite the legacy he's left, teaching is far from being an easy career choice. For the entirety of his career he's had to take on additional jobs in order to support himself and disrespectful students often frequented his classroom.
He said, "At the beginning, I was surviving, it was survival and I didn't know if I was really going to be able to make it through the career because of the fact it was hard. Not only did you have to know all of that material, but then you had be able to get it across, and you had to be able to relate to students. I don't know when that switch happened when I was able to go from the mastery of the material versus the mastery of the individual and being able to communicate with the individual to get them to want to learn. Now that I'm at the stage that I am in my career– and still working at it of course– where I'm able to spend most my time on trying to prepare students so they would find some sort of enjoyment in learning."
His stories come packed with fond memories of fellow educators and humorous students. In the margins of math tests, students leave scribbles of doodles, explanations for failures, and even pleas for divine intervention. Math has never been a subject attracting masses of student affection, but a math conversation with Anderson means bright eyes and enormous enthusiasm.
"My goal was to master the discipline, the method, to really understand the mathematics, to be able to grasp it enough so then I could convey it and in multiple different ways so different abilities and different skill levels of students could grasp it.  That was my goal. I sure have seen a lot of masters over the years that were able to do that. I'm still learning, still trying to reach that. I don't know if I'll ever get there. Anyways  I think that's the number one thing that keeps me going and has made the career as marvelous as what it is."