What welding can do for you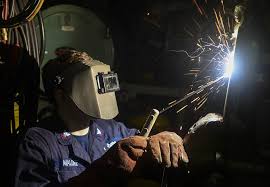 Not every student that graduates from high school is going to go to college. Sometimes society and schools make it seem like that is the one and only route that is available.
There are a lot of different trades and jobs available that don't require heavy schooling. One of the more rewarding trades is Welding. Welding teacher John Groveau said, "Welding is a great alternative for a lot of students. Depending on the student, they can become employed after graduation."
This is just another way for students to prepare for the future that really isn't emphasized. "I do teach a concurrent enrollment class with SLCC," said Groveau. "And they can continue their pathway education in welding."
Even if students don't continue their welding career, they can take many lessons they can use after graduation like work ethics and blueprint reading.
Welding is something that's always in needed. "Certain trades are, by nature, always in demand. One of these rewarding trades is welding," said Groveau. "Look around next time you walk outside, head into work, or stroll through a city. All of the buildings, benches, and structures have some degree of welding involved in them. With projected growth, good pay, and a demand for workers, welding is a career that is not only financially lucrative-it is also in very high demand.
"As with any career, your pay is often determined by where you work. As of now, the median income for a welder is approximately $34,770. However, this pay waivers quite a bit depending on the specific job field you go into. Skilled welders who were employed in the automobile industry saw an increase in pay, with an average annual salary of $44,880 while welders who worked in ship and boat building earned $41,640 per year. Overall, the pay in this field is very enticing and offers quite a bit of flexibility in salary-depending on where you choose to work."
Welding is something that will always be in demand, and the class is held right at Taylorsville High School. "2016 is a great year to launch your welding career. The Bureau of Labor Statistics projects modest job growth. However, according to the American Welding Society, the occupation is experiencing a shortage of workers. Like nursing in the nineties, thousands of welders will be retiring soon, since the average age is about 57. This means more jobs need to be filled, more workers need to be hired, and with that demand comes an increase in pay. Overall, an estimated 50,000 welding jobs are expected to be added to the industry between the years 2010-2020. That comes out to an additional 5,000 jobs per year with a decreasing talent pool!"