Warrior Reads Warcross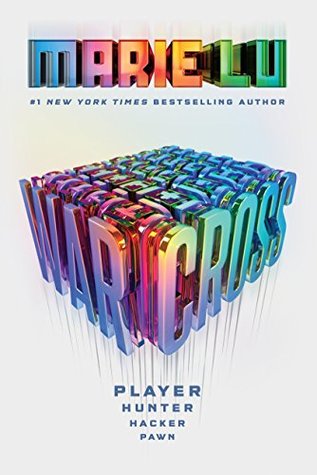 I love fictional books, I read them all day every day. I usually follow up on the author's other works and a lot of them have not been as interesting as the book I first read by that author. The author usually uses a different take on Warcross follows a girl, Emika Chen, who lives in a world full of gamers playing to escape reality, make money, or illegally profit from the game.
The game was made by Hideo Tanaka when he was thirteen. The game is played by a team of players where the goal of the game is to get the other teams Artifact before they get yours. While the purpose of the game is to go up against one another there is an annual tournament. The tournament consists of sixteen teams each with five members; a Leader (who keeps the Artifact), an Architect, a Thief, a Shield, and a Fighter. Before the official game begins the teams get to choose two 'Wildcards' who also join the team.
Desperate to make money, Emika hacks into the games annual tournament and accidentally becomes an overnight sensation. Resulting in her becoming a part of the game as a Wildcard.
The author Marie Lu is an author that I have followed very closely, and this book has been selected as a Beehive Nominee of the year 2019. Some of her previous works include 'The Legend' trilogy both a series of novels and graphic novels and the 'Young Elites' trilogy.
Warcross now has a second book called 'Wild Card' which is used as a gaming term in the first book. The author creates great suspense. She manipulates her storyline to make you think that there are only a couple of major climaxes but end up putting you at the edge of your seat throwing you many twists and turns. And of course, this mystery book can't be a mystery without a little bit of love.
This book will keep you at the edge of your seat so much that you would never want to put it down. Marie Lu throws in many characters at the beginning and you think you have met them all, but she hits you with a character after character and I love them all. The story is fast paced and so if you are interested in the world of science fiction, or romance, or like reading where the action is this book is for you. I hope and vote that Marie Lu Warcross gets selected to be a Beehive Book Awards Winner. For those of you who are wondering what the Beehive Book Awards it was founded in 1980 and is the only children's choice award for literature in Utah. Each year the CLAU (Children's Literature Association of Utah), which is a volunteer organization with people who are interested in children's literature sponsor this program and help motivate reading to children. The children vote nominees from different categories; Children's fiction (chapter books), Picture books, informational books, poetry, graphic novels, and young adult fiction. The nominee title with the highest vote in each category wins the award. Maybe after you read this you will want to be in the gaming world as much as I.