Player Profile: Landon Muir
With the boys' tennis season just commencing, it's time to highlight the senior players. Landon Muir has been on the team for all three years of his high school career. Muir plays both Varsity and JV doubles matches. 
"I started tennis at tryouts sophomore year. Ms. Elkins, my teacher, encouraged my class to try out and it sounded interesting. So I said ok, and I thoroughly enjoyed it. And here we are now three years later I still enjoy every bit of it," commented Muir. 
Tennis is an engaging and inclusive sport. It challenges your mind as much as your physical abilities. "You can feel yourself getting better and more strategic as you play," said Muir. Throughout his three years of experience, he's developed as an athlete and has found new friends as well.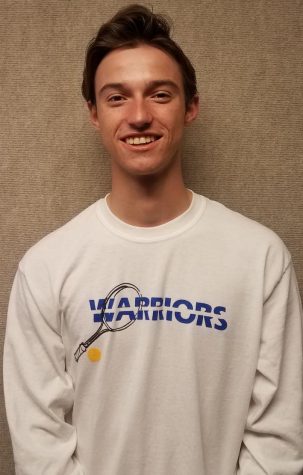 However, it hasn't all been easy. When asked about the lowest point in his tennis career, Muir said, "When I was first beginning I just wasn't playing the highest I could. Sophomore year, when I was trying to understand and get good at the sport. The biggest struggle would just be the time management between homework and practice and games." 
Muir has found support in his teammates and friends, but also his family. "They get excited for me when I'm doing stuff I enjoy. They come to the matches when and if they can," says Muir.
With the support of his family behind him, Muir is preparing for the tennis region tournament in a month. However, after high school, his tennis career may take a different turn. "I don't see myself going pro. But it's a sport that you can just get a whole bunch of friends together and go play. It's a really cool aspect. So if I have some free time I can just go play tennis. That's what I hope for is to keep playing with friends, making connections, and having fun memories with it," said Muir. 
Luckily this season seems to be off to a good start with a win for the region against Granger on the 6th. We wish the boys and Landon luck with the rest of their season.