Introducing our Madrigal Sopranos
Our Madrigals have worked so hard this year trying to battle struggles coming from the Covid-19 pandemic, recovering from the chaos of last year's delayed performances, and juggling everything else in their lives. They definitely deserve some recognition for all their hard work. Here are our Soprano Madrigals!
Ashley Hymas – Soprano 1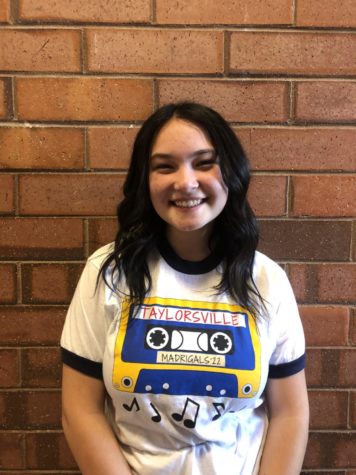 Ashley sings as a soprano one, the highest voice part, in Madrigals. "I've wanted to be a Madrigal for as long as I can remember," she said. 
Ashley did all she could to prepare to be in the group. She has been involved in choirs since junior high and has participated in voice lessons to help her expand her singing capabilities. 
"It gets stressful sometimes because we have a lot of music to learn and memorize," Hymas said. "But I love all the friends I have made this year." Ashley is partnered with Brandon Sorensen and enjoys the company of her fellow Madrigals. 
 Sariah Angeles – Soprano 1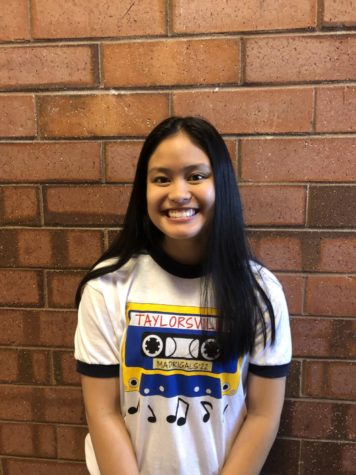 Sariah has been looking forward to being a Madrigal ever since she was young. She loves to sing and perform. Taking choir in school for over five years has helped her prepare for this opportunity. This year, she is partnered with Jonathan Sampson.
Although it's sometimes hard to balance her job, all of her schoolwork, and family responsibilities, she still enjoys all the friends she has made in Madrigals. "Everything is perfect in Mads!" she says. 
"I want to keep that music alive in my life," Angeles said. She hopes to continue singing throughout her career. 
Breanne Bessette – Soprano 1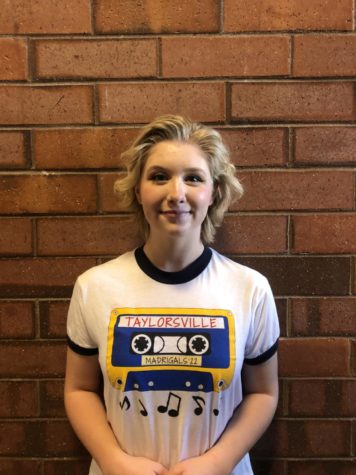 Breanne found her love for music when she participated in Encore Choir at Eisenhower Junior High. "Years of being part of great choir experiences combined with a childhood desire to be one of the pajama people," along with our Taylorsville choir director, Mrs. Tarrant, and other choir students finally motivated her to try out for Madrigals. 
Being a Madrigal can create a busy schedule, especially during the Christmas season. Breanne is constantly trying to juggle performances, schoolwork, tennis, school plays, two jobs, and preparing to move out of state for college next year. "Despite the stress this consistently brings, it's manageable because I love all the things I get to do and I do my best to stay organized and put my academics first," Bessette said. "I'm a big fan of to-do lists and those have helped me immensely as I try to get everything done."
Breanne looks forward to furthering her music career and education. "I've potentially been looking into studying music therapy and bringing that joy I feel when performing to others who are really in need."
Kalie Manning – Soprano 1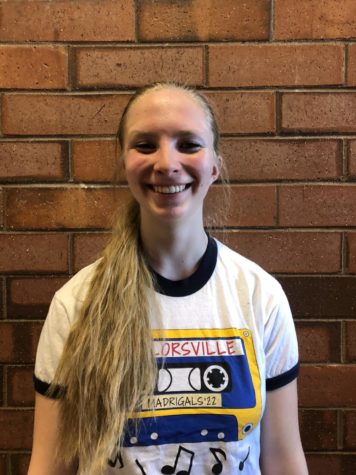 Kalie adores being a Madrigal and dreads the day when her adventures will have to come to an end. "I mean going in pajamas to sing songs about things like fruitcake, reindeer, and snow are definitely the highlight of my day along with all of the friendships I will cherish forever," she said. 
Kalie was motivated to try out by her older sister and previous Madrigal, Melonie. "I had seen my sister […] make a difference in people's lives. I realized that's what I wanted to do, I wanted to be a Madrigal."
Kalie has also been a part of a program called Clayton Productions since she was three years old. "This studio has changed my life and I wouldn't have traded it for anything," Manning said. "It taught me to be more confident in myself and my singing, to know that you never know who you could inspire and improve my skill and understanding of music." Clayton Productions helped Kalie prepare for Madrigals immensely as it helped her grow in both music and dance. 
Kalie's Mads partner is Nathaniel Jones and she looks forward to the continuous opportunities Madrigals will provide her within her senior year. She doesn't quite know what her future holds, but she knows for sure that the memories she's made in Madrigals will be a part of her life forever. 
Naomi Schieving – Soprano 2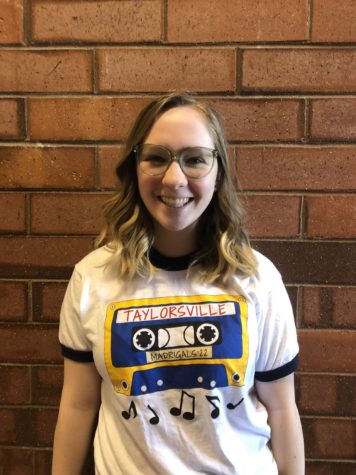 Naomi Schieving is a strong second soprano and is partnered with Sam Stromberg. "I love performing and I love to create music and art that speaks to people," she said. "That's what Madrigals is."
Naomi has been singing since the third grade when she started choir. She recently started voice lessons in high school and plays piano. This helped her prepare for her Madrigals audition. Although her audition had a rocky start, she was able to bounce back and improve.
Naomi's favorite thing about Madrigals is how they are able to learn songs with ease. "We learn music so fast compared to the other choirs I'm in and have been in," Shieving said.
Naomi hopes to continue being in choir throughout her career and plans to audition for choirs at different universities.    
Emma Brown – Soprano 2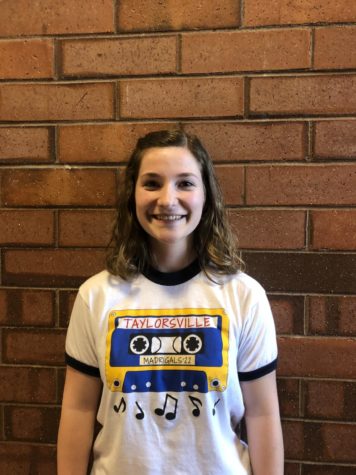 Emma has loved to sing ever since she could remember. She is very involved in the music community, participating in many school musicals and choirs. "When I saw how the other Madrigals from the past years acted, I wanted to be a part of something like that," Brown said. This year she is paired with Brendan Christensen.
Emma's involvement helped her prepare for her Madrigal audition. "I was stressed for the audition but it was a good experience," Brown said. "I liked how the other Madrigals were supporting us." Emma has also been working to improve through private vocal lessons. 
Emma adores being a Madrigal and wouldn't trade it for anything. "I get to do something I love while being with people I love," she said. She looks forward to continuing her involvement and passion with music throughout her life.
Avery Hasler – Soprano 2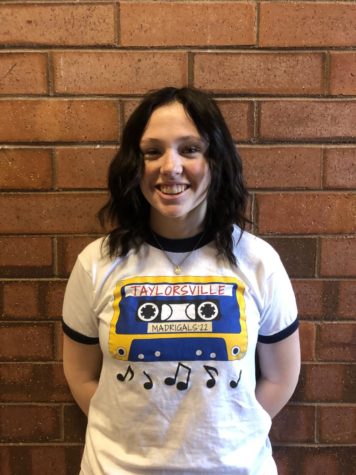 Avery has loved the Madrigals ever since they came to perform at her elementary school, but it wasn't until participating in Concert Choir during her junior year when she realized when she wanted to be one. Now she is part of the Madrigal family and is partnered with Charlie Degraffenried.
"I wasn't sure about [auditioning] but realized nothing too bad could happen, so it was worth a shot," Hasler said about her audition. "I was very nervous going in but having friends in Madrigals last year helped. It was nice to have people to look at and feel comfortable around."
Avery loves all the friends she has made in the close knit Madrigal community. "It's super great to have a support system and good people to surround yourself with," she said.
 Although Avery doesn't plan on pursuing music in her future, she plans on going into Cosmetology in college. 
Gabriela Lara – Soprano 2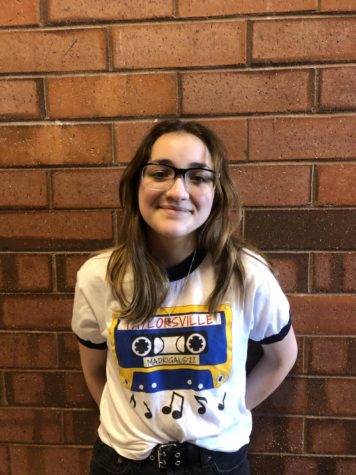 Gabriela has been singing ever since she was three years old. "Since then you can't get me to stop!" she said. She began playing violin in orchestra during the sixth grade and participated in Encore Choir at Eisenhower Junior High for two years. She has also been in every school play and musical that she has been able to audition for. At Taylorsville, Gabriela has previously been a part of Concert Choir and Graces.
"Music has been my safe place my whole life and it has helped me through so much, especially my medical issues," Lara said. "When I first saw the madrigals perform at my junior high I just knew. That's what I wanted to do, I wanted to be like them."
Gabriela loves the dynamic that has been created between her fellow Madrigals and her partner, Tucker Crapo. "We are a family and will be for the rest of our lives. We've made friends that maybe we wouldn't have even met otherwise, but now we're so close," she said. "We trust each other and you can just feel the love when we're all together. It makes everything so much easier and enjoyable since we are together so often."
Gabriela has been thinking about going into music therapy for her career, or minoring in music while picking another major.
Being a Madrigal is a once in a lifetime opportunity and our Mads this year are soaking in every minute of the experience. "I hope being a Madrigal will encourage others to develop their musical talents and encourage people to know that anyone can learn to sing," Bessette said.