Taylorsville's Alto Madrigals
Our Madrigals are continuing to power through endless performances and busy schedules, all while growing closer to one another in the process. "Going into Mads, I feel a weight coming off my shoulders," said second alto Sarah Sanchez. "I know everyone in there has my back and knows exactly how I feel. They bring light in my life where there's darkness." Let's introduce our Madrigal Altos!
Tori Tye – Alto 1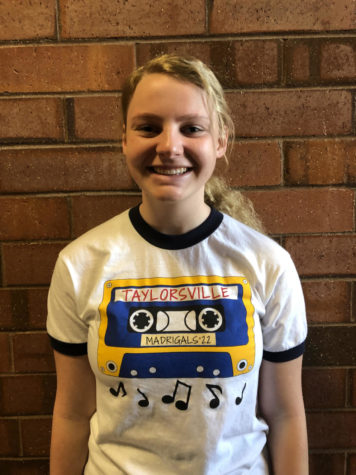 Tori was motivated to try out for Madrigals by her desire to spread the joy of music to other people. She had taken Concert Choir as a junior and wanted to further her choir experience. "Auditions were so nerve wracking," she said. "But it was awesome to hear everyone sing."
"It is amazing [being in Madrigals]!!" Tye said. "I love the people and the community, everyone is so nice and fun to be around." Tori is paired with Briggs Dalton. She has found her place in the Madrigals family and will cherish the memories she makes with them. 
Tori hopes to keep music a part of her life after high school so she can continue spreading the joy and happiness that it brings. 
ShelaMay Rico – Alto 1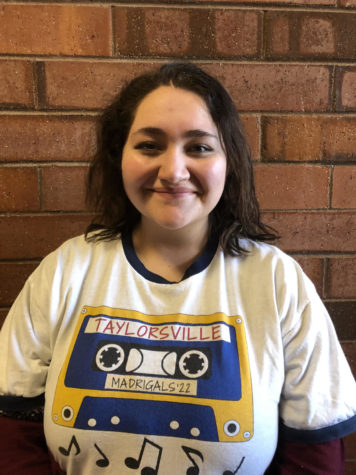 ShelaMay is a self taught singer and comes from a very musical family. Madrigals is right up her alley. "[My favorite thing is] making new friends and memories that I'm sure I'll remember forever," Rico said. She also loves anything to do with music and being involved in the school. 
As is often the case, auditions have been the hardest part for Shey. "Auditions were super scary," she said. "I thought I didn't do well but apparently the other Mads thought I did really well." She is now partnered with Ayden Jones. 
Shey looks forward to going into the movie industry after high school. She hopes to one day write, direct, and compose the music for her own movie. 
Alyssa Skinner – Alto 1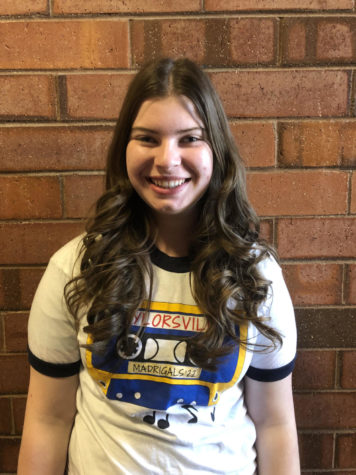 Alyssa has always loved singing and has been in choir since the seventh grade. Seeing the Madrigals perform when she was younger only motivated her to be one herself. Although she was terrified for auditions, she was very happy with the results. "I knew I was so supported in that room as all of the current Madrigals encouraged me," she said.
Alyssa's partner is Caleb Booth. She has found her comfort zone in her close knit group of Madrigals. "I love having a group of people who I can rely on," Skinner said.
Although the Madrigal performance schedule can be very time consuming, Alyssa continues to find ways to make the best of it. "Lots of people think that we are all super extroverted but there is a good amount of us that aren't and burnout is real," she said. "Making sure that [everything is] getting attention leaves me exhausted but by focusing on one thing at a time I can handle it all."
Alyssa wants to continue singing throughout her life, especially in college as she continues her educational journey.
Caroline Wilkinson – Alto 1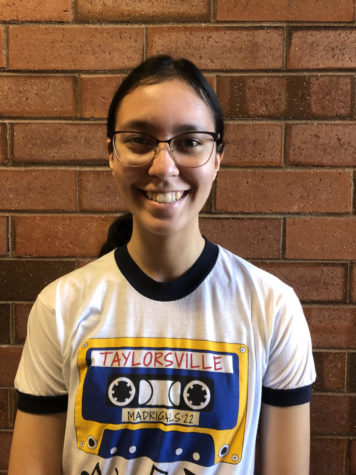 Caroline's older brother was a previous Madrigal at Taylorsville. "They sang a surround sound song in the auditorium, and I knew I wanted to sing in that choir. Both concert choir and Madrigals," she said. From then on, she couldn't wait for auditions. 
"Auditions for me were actually pretty fun," Wilkinson said. "When I sang, my piano/voice teacher played piano for me, and I felt pretty prepared. […] I felt like I completely aced the performance. When I started singing, the stage felt like home."
Caroline looks forward to improving her musical talents throughout her life. "I want to use music to bless the lives around me and to help others feel the meaning of each song," she said. "I feel like I could maybe sing professionally at some point in the future, but I don't want to get into that just yet."
 Tofi Nonu – Alto 2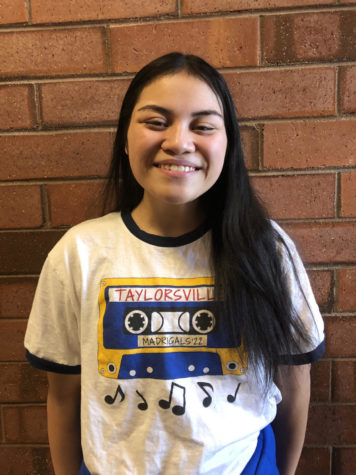 Tofi has wanted to be a Madrigal ever since they came to perform at her elementary school. She was thrilled when her audition went well. "Mads auditions were very welcoming," she said. "You could feel how close everyone was and how supportive everyone was during each of the auditions."
For Tofi, preparation for being a Madrigal included the several music classes she has taken at school. "They just helped me get out of my comfort zone," Nonu said.
Tofi is partnered with Reed Miles and loves the family-like relationship she has formed with the Madrigals. She hopes to keep music in her life throughout her future. 
Abbie Andersen – Alto 2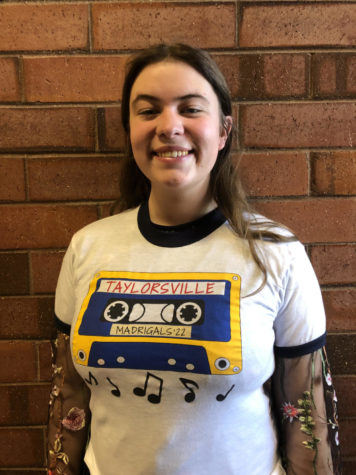 Abbie looked up to her sister, a previous Madrigal, when she decided to try out. Many years of choir experience motivated her desire to make more memories and work harder in her music life. "Auditions were so nerve wracking," she said. "I had waited for that moment for a long time."
Abbie has made so many friends since being in Madrigals, including her partner, Henrie Holder. She can't wait to continue to make memories with them as she finishes out her senior year.
Sarah Sanchez – Alto 2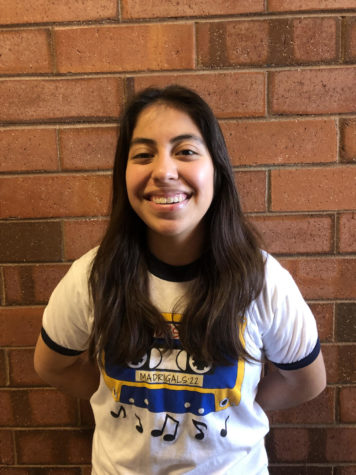 " I knew I wanted to be a Mad since Kindergarten," Sanchez said. She had siblings who were Madrigals at both Taylorsville and Kearns High School and loved watching them perform.
Sarah comes from a very musical family. "Growing up, my family would sing any song together," she said. "My siblings would harmonize as I sang the melody to songs and it helped me be able to hold my own part and later taught me how to harmonize naturally." She has also improved her musical talents by participating in choir since Junior High and working closely with Taylorsville's choir director, Mrs. Tarrant.
Sarah is paired with Corben Cox. She loves the bonds and the trust that has formed throughout the Madrigals this year. She knows she wants to stay involved in music throughout her life. "I hope music will always bring me comfort through my future trials," Sanchez said. "When I feel like I'm in a rough patch later on, I'll look back on the music we sang in Mads and feel only peace."
Camila Cordova – Alto 2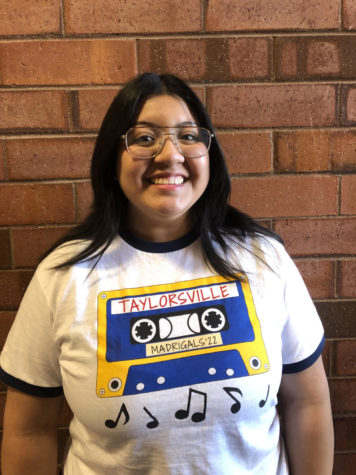 Camila hadn't even thought about being a Madrigal until participating in women's chorus last year. "Junior year was my very first year of taking choir class. Before that I didn't really have much experience besides being in musicals," she said. "Mrs. T is an amazing teacher and I learned so much from her in just the one year of having her class."
Camila was elated when she found out she was going to be a Madrigal and paired with Nathan Bingham. She formed almost an instant bond with the Madrigal family. "[I love] the experiences we have all shared together," Cordova said. "I've grown close to all of them and I really enjoy their company."
Although the busy Madrigal schedule always keeps Camilla on her toes, she finds that there is always a way for it to work out. She hopes to keep music in her life as she gets older and it will always be one of her favorite hobbies.
The Madrigals look forward to making many more memories with each other throughout the rest of the school year. "The people and environment make it fun," said Caroline Wilkinson. "If you're kind and accepting of each other, despite each other's differences, it makes being a Madrigal way more enjoyable."