Meet the 2023 Student Body Officers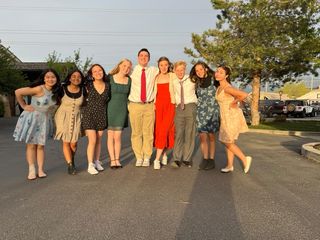 As a new year starts, new students walk through the doors, and are greeted by the current 2022/2023 Taylorsville High School Student Body Officers (or SBOs) with a welcoming smile and open ears. At the end of each year, the student body votes on nine different students to run different aspects of student government and engagement. The Student Body Officers can only be seniors, and they are different from class officers. Class officers work with their class, whereas the SBOs work will all classes from the school. 
Student Body President
Andrew Mize is the 2022/2023 Student Body President. As SBO president, Mize "helps them [other SBOs] with anything they need! I am there to provide for them and the school."
 The SBO president is a great point of contact between the student body and school leadership. This year Mize's main goal is to "help students feel more included in school." 
To accomplish this goal he wants to bring back the 'Cultural Carnival" and make sure that Hope Squad is up and running. 
Mize has been a part of student government for many years off on on, mainly being Vice President in both his junior and sophomore year. Mize ran as SBO president because "it was the position that sparked the most interest." 
Mize is driven by a spark, and he doesn't want to give the student body anything less than his best. 
Student Body Vice President
From clubs to helping the SBO president, to theatre, and much more, vice president Marisol Rocha has been quite busy. Clubs are overseen by the Vice President, and that's why Rocha was drawn to this role. "Clubs hold a lot of importance to my heart and I want to ensure that all clubs are recognized and supported," said Rocha. 
Another thing close to Rocha's heart is theatre. "I am currently in my 14th production since having started in seventh grade and I do not plan to stop," noted Rocha.
Rocha has been in student government since seventh grade as well, and at Taylorsville she was both Sophmore and Junior class president. Student government is a great joy in Rocha's life and will hopefully open many door for her in college. 
In college Rocha plans to work as a Pharmaceutical Technician and obtain a Bachelors in some sort of health science. Rocha said, "I believe that my love for helping people has encouraged me to join healthcare."
But before college Rocha hopes to try her hardest this year, and give it her all. This year she wants to push herself harder and do the very best she can in all of her roles before she graduates from Taylorsville High. 

Student Body Secretary 
Tammy Phung, student body secretary, is dedicated and hard working. Her job as secretary requires her to make calendars, take notes, and so much else. She needs to "know who needs to be where, when and what needs to be done." 
The secretary needs to be well organized and Phung's experience as an eldest child in an immigrant family, being Dance-Co manager, and personality type have allowed Phung to exceed in her position of Secretary. 
"Swimming is a safe place for me. Being in the water and in the pool helps to give me an escape from the outside world," said Phung. 
After high school Phung plans to go to college, pursing something business related, possibly out of state but Phung is waiting to see where life takes her. With her background in student government Phung hopes that she will be able to meet new people, communicate with companies, and stay organized throughout her college years. 
Also through being an SBO Phung has meet tons of other school's SBOs at the beginning or end of football games. "I've met so many awesome people and made some of my favorite memories so far!" 
Phung wants to live this year, "I feel like with my parents being so strict, I've never really got a chane to fully live my life and have those 'teenage experiences.'''
Phung is kind and organized, and wants to make this year hers through meeting others, keeping a 4.0 GPA, and come out of her shell.
Student Body Communications
Over communications is Valeria Mirdiana. Communications entails informing the student body about upcoming events and hear out any concerns that the student body may have. 
Hoping to make her family proud, Mirdiana wants to graduate high school, make new friends, and go to Salt Lake Community College to pursue her generals. After graduation from SLCC she wants to pursue a career in physical therapy. 
Communications is heavily social media orientated, and that's exactly why Mirdiana choose to run for Communications. "I get the opportunity to be closer with the student body," said Miridiana. 
Outside of the hours spent at the school putting things together, homework, etc, Mirdiana works both at Jamaba Juice and the Salt Lake County Recitational Center coaching soccer for little kids. 
Student Body Senate President 
"As Senate President I lead the Senate. There are four senators in each grade, making 16 senators over all," noted Senate President Aspen Batie. 
Senate is very involved in service, and Batie leads and plans these service projects. Charity week is also heavily planned by the senate, and Batie is the head of that and will help everything run smoothly. Service is really important to Batie, "I am really passionate about giving back and doing service."
Batie was a part of the Junior Class senate last year and didn't feel included in student government, and ran last year for Senate President to hopefully involve Senate more.
Currently Batie is playing on the soccer team as well as working two jobs to help support herself throughout college. This year Batie wants to give it her all and not give up in the middle of the year, and stay involved. A broader goal for Batie this year is to get all of the student body involved in some sort of way. "Whether it is to be in a club, a sport, going out and supporting clubs, or going to dances," said Batie. 
Ultimately Batie would love to end up in education, and plans to go to college to make it happen. Her experience in Student Government has strengthened her leadership skills and planning and exciting plans. 
Student Body Activities
Connecting the other SBOs, the student body, and staff throughout the school through events is this year's activities advisor, Samuel Johnson. His role includes planning and overseeing things like assemblies, BARF (Be a Real Friend) Week, and events for many other things throughout the school year. The position of Activities come with a lot of outreach and problem solving, Johnson is "better suited for doing activists and acting on problems that come my way." 
Johnson is very involved in the school community: from soccer, to swim, and through SBOs. This year Johnson is hoping to, "make a difference in connection, diversity, involvement, and making sure everyone's voices are heard." 
After this year with Johnson's goals in mind, he plans to work as an EMT and serve a mission after graduation. After the mission Johnson plans to serve in the military to help pay for his degree in pediatrics. 
Johnson has the fun and exciting job of helping students get involved, tailoring activities to students to help them further their school spirit. 
Student Body Technology 
"As SBO tech, I handle the technology side of student government events/activities," said Kristina Ngyuen. 
This position requires great understanding of technology, how to communicate with the school through the announcements every morning. More than that Ngyuen handles the music at dances, and the sound during assemblies. 
"Technology is one of the things that I know best," said Ngyuen. Technology is unpredictable and requires great problem solving skills, and Ngyuem os great at coming up with solutions to any problems that arise on the spot. 
"SBO Tech is a very young position that is ever-changing. There is a lot that you can do with technology in the present-day, so I want to use it to it's fullest to bring something positive," said Ngyuen. 
Technology has great power to include others, and Ngyuen hopes that through making playlists for the school dances and making sure people put music on the playlists. 
Outside of school Ngyuen enjoys reading, true crime podcasts, anime, and K-pop. After high-school Ngyuen wants to go into Anesthesology. Her problem solving skills will help keep her calm during high stress situations that will arise within this career. 
Student Body Historian
The title of Historian entails taking pictures throughout the school year so that, "years and years later people can look back and see what happened," said this years SBO Historian Lilyana Hood. 
Hood has had a camera since she was little, and has always been taking pictures of memorable moments. "I grew up taking photos of literally anything and everything," said Hood. 
Photography is a big part of Hood's live, has made a business out of it, and plans to pursue photography in college. Photography allows Hood to capture a moment in time and keep that memory alive.
This year Hood wants to make herself happy. "Being able to take the time that I need for myself," said Hood. 
With her role as SBO Historian Hood plans to prove everyone wrong and show that she can fulfill this role and do her best work. 
After high school Hood wants to continue down the photography career and pursue a degree in Photography and make a living doing what she loves the most. 
Student Body Art Director 
SBO art director is the creative director along with a key helping hand for all other SBO's. Shaelyn Openshaw works tirelessly to bring art into all aspects of Taylorsville Student Government. Things such as "decorations for dances and spirit raising weeks, design student gov hoodies" all fall under Openshaws title. 
Openshaw loves to spend her time crafting, hiking, roller skating, sewing, and running. To foster and help Openshaw with her craftiness she also hold a position in the schools FCCLA, and loves participating in shows with her art and crafts. "I competed last year in the sewing construction category and I won gold at region and gold at state for the special occasion dress I made," said Openshaw!
"I also recognize that our school produces a lot of trash and our student body paper decorations doesn't help with that,"said Openshaw. 
Openshaw hopes to make school decorations sustainable and recyclable this year, by switching to things beside paper, using water color, and many other things that she has up her sleeve. 
After creating school spirit through art in Openshaw's senior year she plans to get a secondary education in Clinical Psychology. Both the University of Utah and the University of Oregon are on the top of Openshaws list.