Anastasia: looking behind the scenes
Just over a month ago, Taylorsville High School's theater department put on one of our biggest musicals yet: Anastasia. The musical was magical to anyone who went and saw it, but there is much more to a high school production that an audience's eye can see. Let's take a look at the roller coaster of events that surrounded the making of Anastasia.
The Actors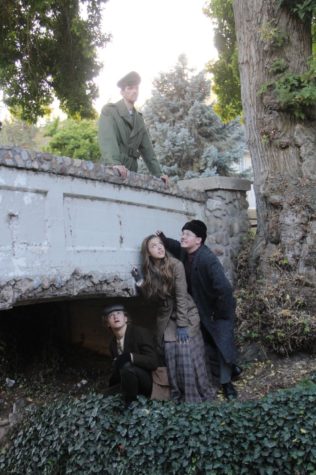 The story of Anastasia takes place in early 1900s Russia when the royal Romanov family is killed by their people. However, Empress Maria Romanov, the last remaining survivor, believes that her darling princess Anastasia is still out there. The story of Anastasia highlights the adventures of Anya (played by Madison Stensrud), Dmitri (played by Brigham Booth), and Vlad (played by Preston Cox) as they work to restore Anya's memory of being the princess Anastasia in hope for receiving reward from the Empress Maria (played by Gracie Hirschi).
Senior and theater social media officer Madison Stensrud had the opportunity to play our very own Anya, but playing such an important role is not as easy as it may seem. "Being the lead was pretty stressful, and being a senior. There's a lot going on. So just making sure I could put my 100% effort into the show as well as the other things I'm juggling," Stensrud said.
Playing Anya's complicated character can be very daunting. The character arc of a long lost princess can be difficult to portray, but many say that Stensrud was made for the part. However, she couldn't have done it without the lending hand of others. "[I had] a lot of help from the directors. Mrs. T helped me a lot with the singing portion of the show, just making sure that I knew what I was doing and being able to perform to the best of my ability," she said. "Also putting in my own effort on my own time at my house, and just really getting into the mindset of knowing that I could do this and giving myself the confidence."
Freshman Austyn Tarrant also played a crucial role in the musical, Countess Lily. Her character plays the part of Empress Maria's lady-in-waiting, as well as Vlad's long lost lover. 
"I didn't go on until the second act, so I had it a little easier than the other leads. I ran through my lines everyday so I could get them in my head," Tarrant said. "I got to work with all my good friends and that really helped prepare me, personally. I also had some help from my mom, who is the choir director. I also had the opportunity to work with an acting coach which was super awesome."
Tarrant has been singing and acting for as long as she can remember, which also helped her prepare for such a big role at such a young age. "Being a freshman and getting a lead […] was very interesting because they could've chosen so many other upperclassmen. But it was very intimidating, not going to lie, because I'm competing against all these other amazing people," she said. "It was a very cool feeling though, being recognized in my first year being here. I just can't wait to show what else I got."
The Music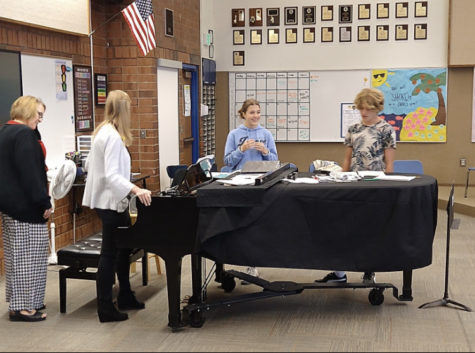 The music in Anastasia is easily one of the most iconic and memorable parts of the show, with popular songs including Journey to the Past, Once Upon a December, In a Crowd of Thousands, and My Petersberg.
However, none of this music would be possible without our band students, otherwise known as "The Pit." The Pit is a combination of Taylorsville's best music students who come together to create music that enhances the theater experience. 
Senior Clara Pitts played both tenor saxophone and clarinet for Anastasia. "I've been playing tenor sax for like four years, so that was most of my preparation. But I think in general people in the pit have been practicing almost as long as the people in the musical have. Not as vigorously, but twice a week we practice for about an hour and a half," she said. "We go over the music on our own sometimes and we practice with the cast for all of the dress rehearsals and everything to make sure that we know how to follow. Not just playing the music, but following the actors on stage."
Broadway music is notorious for being difficult to play, having been composed by musical professionals. These pieces include difficult key signatures, key changes, essential dynamics, multiple part harmonies, and more. The pit must do all they can to get these parts perfect for the sake of the actors' success.
High school music productions can also, in some senses, be more difficult than a professional Broadway musical. "I think something that people don't generally know about is that with professional, theatrical productions, the pit is composed of maybe ten people and each part that you can play is played by multiplied instruments, is one person," Pitts said. "My part in the music had both tenor sax, clarinet, and flute parts. Normally, if I was a professional I'd be playing all three, but I only played clarinet and sax. Everyone else pretty much only played one instrument."
The Set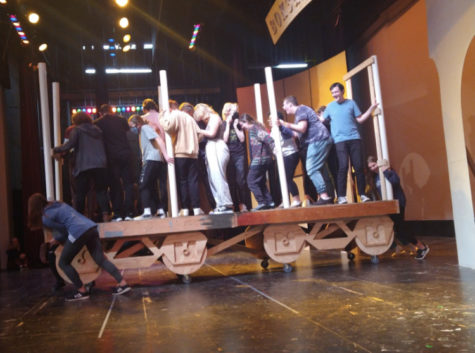 The set was the most complicated and problematic component to this year's musical, to say the least. From specific and essential set pieces to the highly talked of train fiasco, this year's set was one for the books.
Most people would not expect the amount of detail and organization that goes on backstage during a performance. "Every prop has its own designated spot that it always goes to because we have to be able to find it when we need it," said senior and theater productions officer, Jensen Edmunds. "If an actor doesn't have their prop, it could be something like they don't have a book and it doesn't matter, but it could've been something really important like the music box for Anastasia."
Not only small props are kept backstage, but large ones as well. The big train during one of the scenes is tucked behind the curtains until needed, as well as many other set and backdrop changes. 
The first Saturday night of the show was one of the hardest to get through for our musical cast. On top of difficult set changes, sound malfunctions, and bursting light bulbs before the show, the handmade train snapped in two in the middle of a scene.
"We had a lot of people who put in a lot of hard work to make that train, but obviously we are not professional builders, so it did have some mishaps," Stensrud said. "It was pretty traumatic for everyone that was on the train, but we just had to keep the show going and we had a lot of people tell us that we did a good job of keeping the scene rolling and not letting it affect how we were acting and how we were singing."
Luckily, after the incident, the techies were to the rescue. "Techies" are those who work behind the scenes moving sets, working with costume changes, helping with light and sound, and anything else that may need assistance during the show.
"[The train] is something the techies were fixing backstage while the show was going on," said senior, theater president, and stage manager Davin Christensen. "It is really ridiculous how fast things get put together and how fast things will fall apart."
"It was one of the scariest moments having the tech on stage having to run out and save it and make sure they weren't injured," Edmunds added.
Other than the train, the most difficult part of Anastasia was the costumes. "We had over 300 costumes for the show, I think it came out to 375. Just that load and figuring out how to work with it makes it so much harder," Christensen said. "I think that's probably the hardest part because I don't think I've ever been in a show that has this many costumes and having to work around wig changes, costume changes, set change is just a lot all at once."
Costumes for school productions often come from other schools in the district who have put on the same musical, but this year the theater department had a little extra help from their costume manager, Jamie Stensrud. 
"She's amazing," Christensen said. "She has a lot of connections with the theater world in Utah, so we got most of our costumes from Pioneer Theatre Company."
The Tech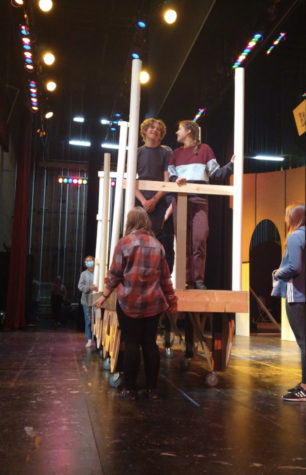 Last, but certainly not least, Anastasia would not have been possible without our very own tech team. They are the ones who are really able to pull the show together, quicker than most people would expect. This all starts with tech week. 
"Tech week is 'hell week,'" Christensen said with a laugh. "Tech week is when you go through all, the first two days are just about the techies. The techies watch your show but only the stage managers are the techies that go through the process of the entire show."
As mentioned before, the techies take care of everything that the cast can't while they're on stage. Some of their jobs include set changes, costume changes, lighting and sound work, building and fixing the set, and much more. 
After the techies are introduced to the show, dress rehearsal's begin. "It […] allows the actors to figure out what's going to happen because they haven't used any of the set or any of the costumes or props," Edmunds said. "They should know that they're going to be there. Tech week is where we implement that. We run through the show, first and second act, and we just go through focusing on getting each of the changes correct."
The booth is also an important factor to a theater production. There are three main things that go on in the booth, first is the lighting, which Edmunds is in charge of. "I am up there and my job is when the actors hit their targets, I make sure the lights change right. When the scene ends, I make sure that the lights go out or dim to an appropriate degree to one, allow the actors and the set to change without the audience seeing and two, also signal that the setting and scene has changed," he said.
The spotlights are also an important part of the lighting crew. "Our spotlights help film lights when needed, if we need a target to just one actor to really help draw the focus of the audience to those spots."
Another important factor in the booth is the sound crew. "Sound […] is up there to make sure we aren't getting any feedback, that everyone can be heard, and that anyone that isn't supposed to be on can't be heard, so that people on stage can be heard." 
Christensen is also in the booth during shows to make sure everything is running properly. "Our stage manager is up there making sure everything happens. Every single mic change, sound change, sound effects, making sure the spotters go, the set goes," Edmunds said about her. "All the main people and the deck managers and the light and sound crew have headsets there to communicate. It's just making sure that everything happens the way it's supposed to."
Although being a techie can be a tiring and daunting job, their responsibilities are laced with fun. "During quite a few of the songs you will find us singing our hearts out with [the actors]," Edmunds said. 
Anastasia, as mentioned by many, has been one of Taylorsville's best musicals. Between all the hard work and the memories made, the cast truly had a wonderful time. We can't wait to see what else our amazing theater department has in store for us.