Meet Taylorsville's Future Business Leaders of America
The four years of high school are the best time to start exploring potential careers and developing skills that will benefit you in the future, no matter which one you choose. Taylorsville High's Future Business Leaders of America know that and have taken the initiative to join a club that is dedicated to helping the members reach their professional goals for the future.
Future Business Leaders of America, or FBLA, is a nationally recognized business and professional development club. The club plans activities to give members the opportunity to advance their skills in writing, speaking, and other skills that can be used in college or in the job market.
Taylorsville High School's FBLA teacher advisor, Mrs.Jones, invites guest speakers to talk about things like job searching and skill building. Members have had the opportunity to meet business professionals and talk about the steps in getting a job as a teenager, the benefits of working for a nonprofit organization, how to write a resume, and other topics that can be useful to them while they're still exploring careers and building skills that'll benefit them in their professional lives.
Daniela Espinoza, a junior who is this year's FBLA president, explained that FBLA has been an important part of her preparations for the future. She said, "I have developed new ways to stay professional and open-minded when giving public presentations and speeches. FBLA has taught me how to grow mentally, which is something I know will benefit me in the future as I enter the business world. The club has broadened my horizons and increased my respect and passion for business."
The club is also active in the Taylorsville community. This year, the members have organized trips to volunteer at the food bank and cemetery. They've also made plans to join Tville's Earth Club in volunteering at a community garden in the spring.
FBLA members sometimes represent the entire Taylorsville business department at events like Taste of Taylorsville, or the entire organization at events like the GTI Open House. 
This year's social media officer, sophomore Valeria Trevizo, has described how she feels the new things she's experienced with FBLA will benefit her later in life. She said, "In these past almost two years in FBLA, I've enjoyed a lot of new things. More specifically how it gets you to go out of your comfort zone and makes you be more out-going. FBLA has overall helped me get out of my comfort zone more and talk to more people which has helped me greatly in a lot of aspects in my life."
One of the main focuses of the club are competitions. Members can choose to compete in a wide variety of events like Marketing, Graphic Design, Political Science, and Word Processing. Competitions encourage FBLA members to learn more about areas they're interested in while competing for money and medals. 
The club's historian, sophomore Shaza Abdelrasoul, has noted that FBLA introduced her to subjects she had never heard about before. She said, "FBLA first introduced me to the study of economics, which was something I had never heard about before starting high school. After competing in the Economics event these past two years, I feel like I've found something that I'm genuinely interested in studying in college."
The club recently competed in the Utah FBLA Metro Region competition against 21 other schools. Multiple members took home medals and certificates for their accomplishments. Here is a list of winners from the regional competition: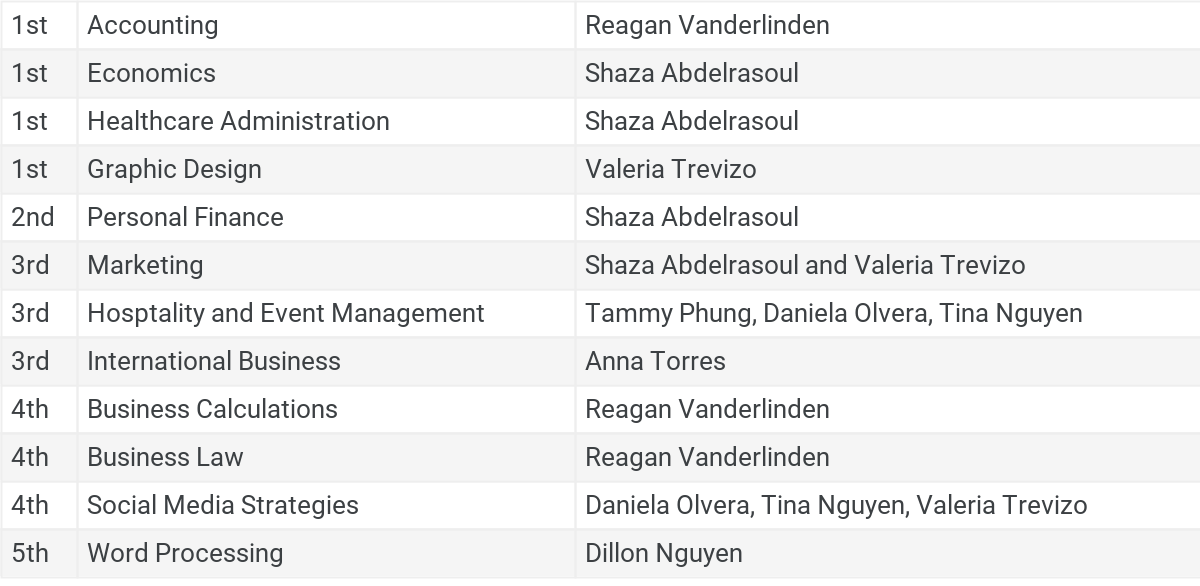 State competition is coming up on March 6-8, and the members are preparing hard to win first place prizes and a chance to compete at Nationals. Taylorsville FBLA invites anyone who is interested in business or professional development to join them next year and become a Future Business Leader of America.
Interested students can get more information from Mrs. Jones in I202 on A-days, and from the club's Instagram page at @tvillefbla.