Taylor Swift's 'The Eras Tour'
On November 1, 2022, Taylor Swift thrilled fans around the world by surprise announcing 'The Eras Tour' on Instagram. Tour dates began on March 18 in Glendale, Arizona, and would end on August 5 in Los Angeles, California. With this post, Swift also announced the many musicians that would have the privilege of being her concert openers: Paramore, beabadoobee, Phoebe Bridgers, girl in red, MUNA, HAIM, GAYLE, Gracie Abrams, and OWENN.
"I'm enchanted to announce my next tour: Taylor Swift | The Eras Tour, a journey through the musical eras of career, (past and present!)," Swift said in her Instagram announcement post. "I can't WAIT to see your gorgeous faces out there. It's been a long time coming."
Two weeks later, on November 15, tickets for The Eras Tour went on sale through Ticketmaster. However, the demand for tickets made fans very unhappy. Sophomore Josh Nelson described his battle with Ticketmaster as "The Great War."
"It was pretty annoying like it kept glitching and exiting out and they had to push it back," Nelson said. "I remember being in the queue for so long it felt like I was there for hours."
Junior Grace Dalton had a similar experience with ticketmaster. "My dad had to use both his computer and his phone to even get into the website. Once he was in all the tickets were selling out so fast that it was glitching," she said. "They were sending the wrong dates to come back online. They said to come back at 10 am but he wasn't allowed back on until 4 pm. It was a whole mess." 
However, despite the nationwide struggle with Ticketmaster, hundreds of thousands of swifties were able to get tickets to this once in a lifetime experience. The next thing on their mind: What do I wear?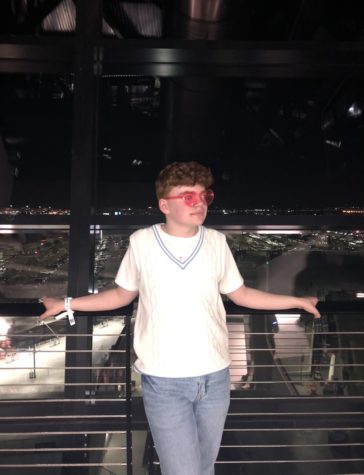 Taylor Swift concerts are hardly an event to just wear an album t-shirt and jeans. Her concerts form full-on fashion shows from fans dressing up to look like music video characters to purple easter eggs to manifest the re-recording of their favorite album. "I saw this couple dressed up as Miss Americana and the Heartbreak Prince and I thought it was really cute," Nelson said.
Josh Nelson wanted to represent his favorite era, folklore, by wearing a knit sweater vest, mimicking Swift's iconic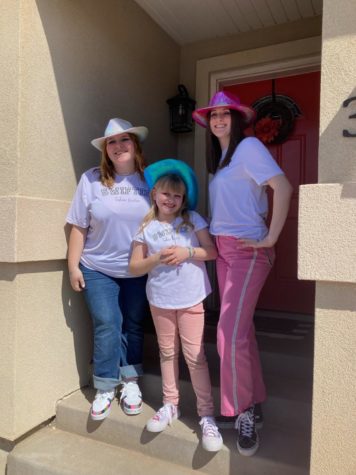 cardigan. He also added some Lover–style sunglasses to the look.
Grace Dalton went all out with a bright, fluorescent cowboy hat along with custom made eras shoes and a "Swiftie (Taylor's Version) t-shirt. She complimented the look with bright colors in her makeup.   
Senior Maryn Seaman made her own "Junior Jewels" t-shirt as seen in Swift's You Belong With Me music video. "I had all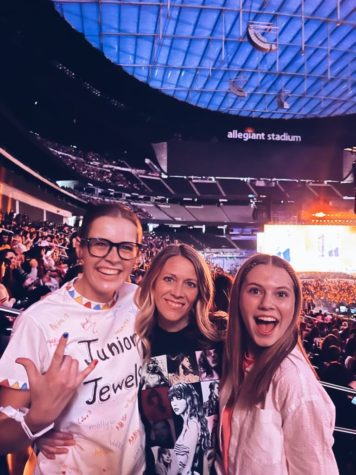 of my friends sign it!" she said. 
Then, the day finally came to line up outside of stadiums to get the chance to see Taylor Swift herself. But similar to the Ticketmaster fiasco, fans were not happy with how difficult it was to obtain merchandise. 
Hours before a concert would start, the Taylor Swift merch trucks would park outside the stadium to sell t-shirts, hoodies, and the like. Fans, even those who were not able to purchase tickets, stood in lines over five hours long, most times to find out what they had hoped to buy was sold out by the time it was their turn. Merch tables were also set up inside stadiums, but with even more limited products and less space to accommodate for mile-long lines. 
Ever since The Very First Night of the tour, fans have had a lot to complain about surrounding the Eras Tour merchandise. Many people have been buying out everything in the merch trucks and stands to resell for more than triple the price. Others claim that the clothing being sold fades extremely even after the first wash. 
"Several Swifties have taken to social media and Reddit in particular to complain about their Eras Tour merch fading severely after being washed to the point that Taylor's face was, in some cases, beyond recognition," said a Billboard article.
Even through all these problems, Swift gave fans an unforgettable performance. She transitioned through almost all eras and albums throughout her career. She mainly performed songs from her albums Fearless, Speak Now, Red, 1989, reputation, Lover, folklore, evermore, and Midnights. 
"I really liked her Red era just with all the classics she played. Then I really liked the Folklore era because Folklore is just one of my favorite albums so I was geeking out on that one," Seaman said. "I thought that the transitions between eras were crazy. The costume changes and the whole vibe and how they did the lighting and staging was really cool."
"I loved screaming, singing, sobbing the lyrics to every song while the light bracelet went crazy. Just the whole process of being at a concert but it was special cause it was her and I was so happy and she's just my favorite," Dalton said.
"I really like the transition from tolerate it to Ready For It…? I thought it was so cool and also I loved how she brought out all of her eras during Look What You Made Me Do," Nelson added.
Swift has also added many unexpected twists to each show, including two different surprise acoustic songs every night. Many of the Utah Swifties attended her shows in Las Vegas where she played Our Song, Snow on the Beach, cowboy like me featuring Marcus Mumford, and White Horse.
"I was so excited and I loved when she brought out Marcus Mumford," Nelson said. 
Fans also experienced favorite unexpected moments during the tour, including discovering new favorite songs. "[I loved] tolerate it! The piano and the setting the table and the acting and I was sobbing and everything was amazing. New favorite song unlocked for sure," said Dalton.
Swifties still have so much to look forward to as The Eras Tour continues throughout the summer. We can't wait to see what she has in store for us next!