BMX performers entertain students at Anti-Bullying Assembly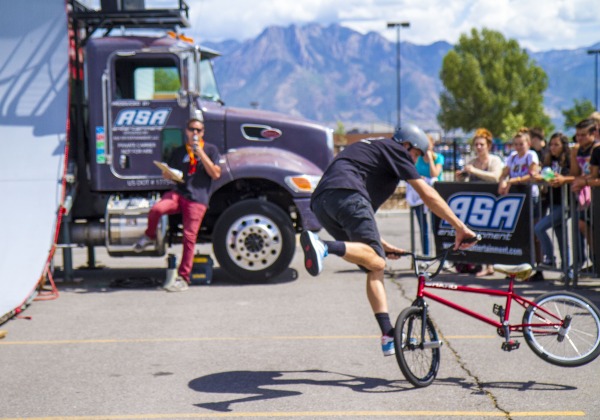 This year's Anti-Bully Assembly took place on Friday, September 5, at the back of the school, where BMX riders performed stunts on a ramp, and the audience would watch behind a fence covering the stage.
Stunt performers such as Colton Satterfield, Jimmy Walkers, Trevor Meyers, and more, did tricks on bikes and skateboards.  This was to bring students and entertain them, while promoting anti-bullying and spread awareness. Still, many students did not attend the assembly.
Many students must have thought the assembly would be boring. Others must have not wanted to see the performers do stunts or hear about the bullying problem people are having these days.
"I went to the assembly for only like half a minute," said Jeffica White, sophomore. "I went to the gas station and left," she said.
"
"One out of 10 people drop out of school, because of bullying.""
— John Bethers
John Bethers was the key speaker at the event and talked about how bullying affects the lives of many people. He also talked about on how bully victims can deal with these kinds of problems, for example to tell a trusted adult or teacher or talk to the bully about how you feel.
"One out of 10 people drop out of school, because of bullying," said John Bethers, speaker at the assembly. " 16000 students miss school each day because of bullying.", he said.
John Bethers was also a victim of bullying as a teenager.
" I didn't try and fight back, didn't say anything…  Just walked away from the situation," said Bethers, BMX performer.
Bethers ended the assembly with a trivia game, asking the students about what he had talked about during the assembly. Anyone who answered any of his questions correctly, won a lanyard.
"The assembly was really nice, I liked it.  It was cool having people perform on ramps and do cool tricks, and I think that it did help spread awareness of bullying," said Makayla Ross, Senior.