Taylorsville welcomes 18 new faculty members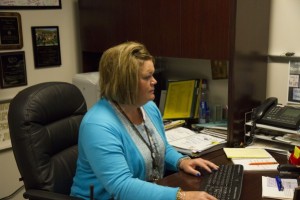 Kaleb Clarke
Emme Liddell, Assistant Principal
National College Shot Put Champion, Emme Liddell, joins the ranks of administrators as Assistant Principal. Assuming Mrs. Roylance's position in the front office, Liddell oversees the seniors. With students' high regard and general respect for the former assistant principal looming over her head, Liddell wastes no time in executing plans and goals for the coming school year.
"My goal is to help all the seniors reach their goals and move on to bigger, better things," said Liddell.
Since her distinctive athletic past, Liddell has hoped for many new and different experiences. From a sea of bucket list options, she favors travelling abroad with her husband as a must. Until that ambitious future, Liddell carries on with the daunting task before her, and, in so doing, reflects on her own adolescent years. "Don't sweat the small stuff," said Liddell, speaking both to her high school self and the hundreds of students she dedicates her time to. "And just enjoy the moment!"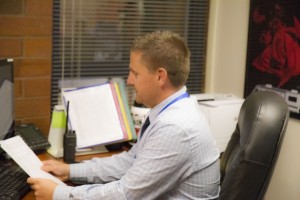 Kaleb Clarke
Ryan Shaw, Assistant Principal
Assistant principal Ryan Shaw approaches his first year with enthusiasm. "I look to improve an already great school. My first plan is to get to know the staff and the students." Shaw generally works with the counselors, trackers, and with the junior class students, many of whom would never have guessed his interesting personality.
Shaw is a massive fan of sports. "Any kind," he said, "I love sports. I'm a die hard Utah fan, I go to all the football games, I'm a season ticket holder. I love the outdoors, I do a lot of camping and travelling." Shaw wants to gain more experience in traveling and curb his appetite for sports, particularly his favorite. "I would like to visit more baseball stadiums because I love MLB. I am a baseball guy," he said.
Among his passions there seems to be a pattern of enjoyment in  physical exertion. Upon a shelf in his office rests a photo of Shaw after one of several Spartan Races. Shaw is usually working, competing, or cheering on his favorite teams. However, in his leisure he is most likely winding down in front of a rerun of Breaking Bad with a plate of Mexican food accompanied by his chosen sidekick, Diet Mountain Dew.
Shaw pays loyal homage to Utah. "I grew up on the west side. I went to Kearns High. I went to SUU, I know all about Taylorsville and I'm excited to be here."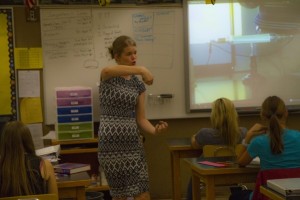 Kaleb Clarke
Kristin Ahmed, Chemistry
Although surrounded by languages of every type and sort, Kristin Ahmed speaks fluently in the language of Chemistry, and–for four years now–instructs students to do so also. Her husband speaks a total of nine languages, and Ahmed began learning Turkish for the main purpose of communicating more effeciently with her in-laws.
"There are a lot of places I'd like to travel to–like Turkey–I'd want to meet my in-laws who live there," said Ahmed of her bucket list goals. "Also other places like India and Africa."
As far as her teaching career goes, and plans for this year, Ahmed hopes to better equip students with tools for their future education. "This year I really want to try to help students prepare for college by using online tools such as Canvas," said Ahmed. "Also I want to challenge them to take better notes and start good study habits in preparation for college."
An exemplary student in high school, Ahmed realizes the "Type A" title she always industriously strove to uphold, may not have been so painstakingly crucial. "Relax," says Ahmed to her past self and any that may now be in her position. "Enjoy life. It's good to be driven, but don't drive yourself crazy."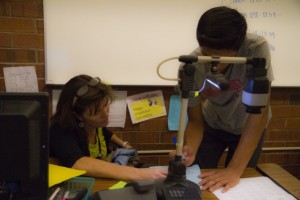 Rachel Prows
Patty Bergstrom, Math
Once the head cheerleader at Bingham High, Patty Bergstrom now spends the majority of her days in the classroom, teaching math to unruly high schoolers. "My goal is to help all my sophomores pass the Sage test," said Bergstrom. A teacher of 27 years, Bergstrom has wheeled through the hallways of Cottonwood, Granger, and West Lake Junior. She has lived with Multiple Sclerosis (MS)–a disease that affects the brain functions that control balance and some of the body's physical activities–for much of her adult life.
As a mother of four and grandmother to eight, Bergstrom's number one bucket list item involves, of course, her family. "I would love to get all of my family on a plane," said Bergstrom, "and go to Hawaii and spend a week there."
To all students enduring high school, Bergstrom concludes a few words of advice. "Have a plan and be organized," said Bergstrom. "Also, write in your journal."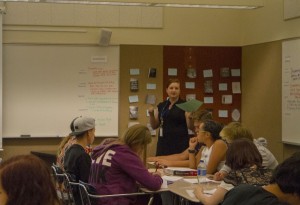 Rachel Prows
Rachel Butterfield, English
Out of all fifty states–which she visited before the age of 18 (without the aid of an airplane)–Rachel Butterfield chose Utah to pursue her career as a high school teacher. This year she tackles English 12, Creative Writing, and Humanities, hoping to get more involved in helping seniors to enjoy English. Despite seeing every state, Butterfield will not consider herself a true traveller until she tours Europe as she has always longed to. Until then, Butterfield urges her students, drawing from her past high school experience, to cultivate their love for learning in all possible ways. "Do your work," said Butterfield. "and learn about the things that you're interested in."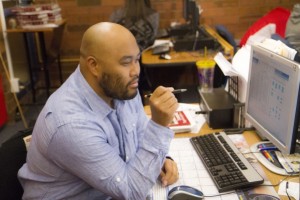 Justice Hayes
Benjamin Crisanto, Business
A second-year teacher, boxer, and DECA adviser, Benjamin Crisanto enters the ranks of business instructors with hefty plans for his first year here. "I hope to grow hair on my head," said Crisanto, "and to continue to grow out my beautiful beard. Also I want to get to know kids. And break stuff, that sounds fun."
When he's not heading clubs such as DECA and FBLA, or boxing (as he does frequently in his spare time), Crisanto furthers efforts to convince his wife to let him buy an amitola bulldog, something that he has always positioned high on his bucket list.
To his students and high school self, Crisanto urges involvement of every sort. "Go out and do everything you can," said Crisanto, "all sports, clubs, whatever you're interested in."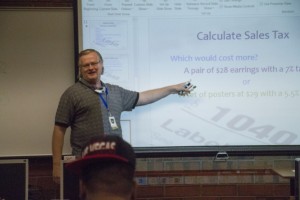 Kaleb Clarke
Jerry Croasmun, Business
Once the head editor for his high school yearbook staff, Jerry Croasmun now teaches business courses in lower H-hall. A teacher of 25 years, he now spends his first year here teaching every A-day, and at Kearns Junior High the remainder of the time.
"My plans for this coming school year are to teach financial literacy," said Croasmun. "and do the best job that I can, and have fun!"
Croasmun's bucket list remains empty, but due to one simple reason. "I have to buy the bucket before I make the list," said Croasmun. "Then I can put it in the bucket."
In high school, he filled the rare percentage of the high school populace that legitimately looked forward to attending class, but fit right in with the majority of adolescents facing adulthood with trepidation. "I enjoy school, I love school," said Croasmun. "When I was a senior I had to think about the future, and it was scary. My advice to my high school self would be to continue to get involved and enjoy being a kid."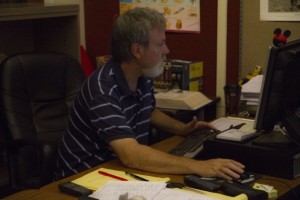 Kaleb Clarke
Charles Nate, Social Studies
A mountain man at heart, Charles Nate–the new social studies teacher in I-206–lives what he teaches. In his spare time he enjoys creating authentic leather goods, particularly bags that men in the fur trade would use. He has made a total of three rifles in his lifetime, and loves to attend reenactments and mountain men rendezvous.
Although the past ten years he taught in Phoenix, Arizona, Nate is local–born in Utah, graduate of Hillcrest High School. His goal this year is to implement more of the common core. "I want to encourage my students to read more argument writing," said Nate, "and help kids learn how to write better."
True to his love of history, Nate hopes to travel more, especially in the U.S., to explore more of the South and Northeastern states.  For his students, he pushes for this selfsame enthusiasm, or at least a fraction of it. "Learn history as much as you can," said Nate. "If you don't like it now, you will later. Watch the news, read, and enjoy it because you can learn from the past."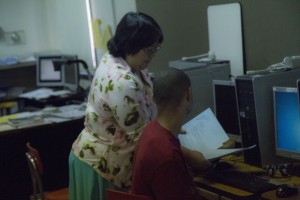 Kaleb Clarke
Teresa Okada, Special Ed
Teresa Okada, special ed chair, comes to Taylorsville with high hopes for a great, successful school year.
Having been the president of her high school's pep club, she is ready to get the students excited and motivated for graduation.
"My hopes and plans for the school year" says Okada, "are for students to move towards graduation and see the importance of getting their diploma."
Everyone has that one item on their bucket list that they are determined to do before they die, Okada's being to sell all of her possessions and move to Hawaii.
If Okada could go back to high school and give herself a piece of advice, she would tell herself "To stay involved in school through clubs and sports."
Okada's students are bound to have much success and "move towards graduation"  with great enthusiasm and confidence.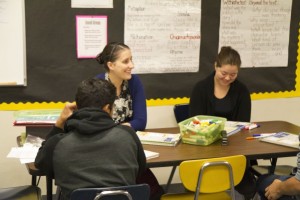 Justice Hayes
Angela Preble, Special Ed
Ms. Angela Preble is a thoroughbred Utahn. "Born and raised in Salt Lake City," she says, her voice brimming with conviction."I taught middle school so it's been really nice being at a high school. The kids are a little less emotional."
The power she does not exhaust working in Relocatable 8 she uses to stay physically active. "I have to run every day to get my energy out," she says, as if it is the most sensible thing to do.
It seems as though keeping a healthy routine has never been a problem with Preble.  A member of the high school soccer and volleyball team during her high school years, she balanced drama and mock trial among her activities.
In a spirit of reminiscence, Preble gazes back in gratification over the bounty of extracurriculars she involved herself with. "It's not all about high school and you don't have to be perfect the whole time. Have fun, stay involved in all the activities you can."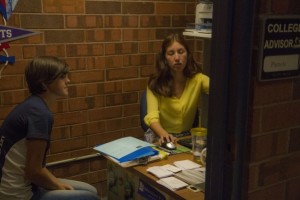 Kaleb Clarke
Pamela Ramos, College Adviser
Replacing Mike Lehr in the closet office just outside the Counseling Center, Pamela Ramos commences her first year as a college adviser. "First I just want to get to know as many students as possible," said Ramos, "and help them achieve their post-graduation plans."
In addition to her interests in students and their lives after high school, Ramos spends much of her time running. Currently, she is training for a half-marathon, but enjoys running 5Ks and 10Ks. As a topper on her bucket list, Ramos longs to visit Jerusalem. "I'm really interested in the culture," said Ramos, "and I want to learn more about the religion and history."
Ramos advises students to work hard, but not too hard. "Don't overwork yourself," she said. "There's still life after high school. Pass your classes, do your best, but don't overwork yourself."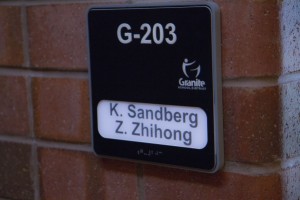 Kaleb Clarke
Kailee Sandberg, Special Ed
Alumni Kailee Sandberg once wandererd the hallways in search of her next class, but now finds herself behind a desk in upper G-Hall, instructing students of her own. "I want them to be happy with themselves," said Sandberg of her students, to whom she dedicates much of her time and effort, "and to be able to do what they want with their lives."
As a first year teacher, she is both excited and nervous for the coming school year, but especially she looks forward to swim season when she will aid the team and coaches.
In addition to teaching and swimming, Sandberg loves movies and musicals–above all the film adaptation of the Broadway musical, Mamma Mia!, and dreams of one day travelling to Greece.
Remembering her own high school experience, Sandberg urges students to take advantage of the many opportunities given to them, and to take as many AP/CC classes as they are able to.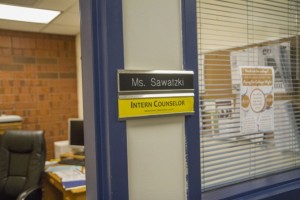 Kaleb Clarke
Shanna Sawatzki, Intern Counselor 
New assistant counselor Shanna Sawatzki is in the spray tanning business. When she was younger her and her friend would spray tan until one day, they decided to start a spray tanning business. It's still going on today, running well.When she gets around to starting a family  Sawatzki wants two or three kids. She would tell her high school self to invest in the stock market because today she would be rich if she would have invested in certain stocks.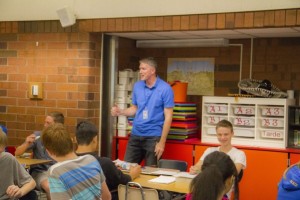 Justice Hayes
Jeremy Smith, Spanish, Basketball Coach
When he's not in upper G-Hall letting Spanish vowels tumble from his experienced tongue, thirteen-year teacher Jeremy Smith is in the gymnasium helping with Boy's Basketball. Thinking back to a year ago, however, Smith's mind immediately drowns in the overpowering scent of ocean water, the grainy sand burying his bended knee, and paralytic butterflies, as he recalls the day he proposed to his wife on a beach in Mexico.
Now happily married and excited for his first year here, Smith looks forward to a full year of teaching, coaching, and meeting new people. "I'd like to get to know kids in classes and outside," said Smith, "and their unique ways of learning."
Although an instructor of Spanish, Smith first travelled to Italy where he soon became fluent in Italian. Now that he knows Spanish, however, he longs to visit places such as Spain, Costa Rica, and Peru. To students in all stages of life, Smith offers one succinct piece of advice. "Take Spanish!" said Smith. "And enjoy every day and every moment."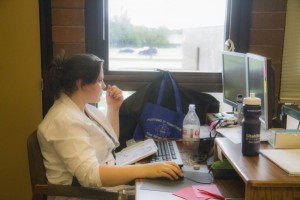 Rachel Prows
Ashley Ward, Art
Ward does not fall short of the ideal art teacher. Eccentric, excited, and full of quirk, her personality is shines in her plans and goals for the year.
"I would like to eventually get a mural up in the lunch room and get the art club going again."
Though a thirst for adventure is deeply instilled, Ward keeps a realistic perspective in mind. "I wanted to go backpacking in Spain but then I decided that I like to sleep on real beds so that one's forfeited." She seems to love travel, having already had a taste of the Northern country, she has her sights set on the attractions that the Eastern hemisphere holds. "I want to go to Japan and get the spa thing where you get dead skin eaten off your feet by the fishes," she said.
Though curious and very open to new culture, she seems to have a very picky taste, particularly in food. "I had Rocky Mountain Oysters. They weren't very good." she said. "They weren't horrible but they weren't very good." She describes an encounter she had with a particular confectionery while on one of her Northern adventures. "I ate fudge in Canada once. It was horrible."
Her colorful life started in neighboring states. "I am from Colorado and Minnesota, I have family that lives in Minnesota so that's where I go for Christmas." No doubt this year as she visits her relatives, she will gain more interesting experience.
Ward wishes she had heard this advice while in high school. "Get your head out of your posterior," she said.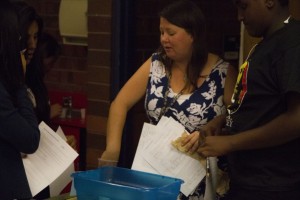 Kaleb Clarke
Paige Walker, Biology
Paige Walker, the new biology teacher, wants to travel to many places in the world. Germany and Iceland are an absolute must. Walker used to cut her 3rd period most days to go hiking. If she could tell her high school self to go to class instead of go on a hike she would, only because she would have taken every opportunity possible to be successful. AP and college classes are the classes she would have taken to be on top.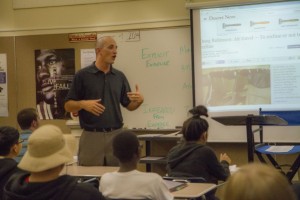 Rachel Prows
Garrett Wilson, English, Head Basketball Coach
Although an admirer of the art of cooking, Head Basketball Coach Garrett Wilson spends the majority of his time at school in upper H-hall, teaching English to tenth graders. In anticipation of his first year here, Wilson plans to continue last year's basketball success throughout this year. "I want to stay with the solid English program that the English teachers have," said Wilson.
Unlike others whose bucket list items include travelling to faraway, exotic places, Wilson aims for one clear and simple dream: to attend a Duke basketball game at the Cameron indoor stadium.
Reflecting back on his high school years, Wilson realizes how quickly they swept by. "Enjoy every minute of high school," said Wilson, "because it goes away really fast. Don't be in a hurry to grow up."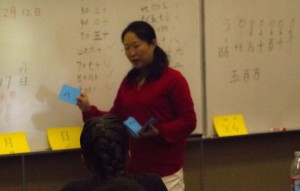 Zhang Zhihong, Chinese
Chinese teacher, Zhang Zhihong, looks in fervor for her new year of teaching. Backed by experiences in traveling and observing diverse cultures, she understands what is essential to execute her plans this year in introducing the Chinese language to her students.
"I want to introduce Chinese culture and show young people how to communicate in Chinese," said Zhihong. Her experience with countries beyond America refresh her with perspective, it also supplies her with an educated approach. Students' knowledge of their teacher's experience may give them comfort. "I've traveled to many places in China, and I've been to the United Kingdom, and now I'm here in America," she said.
Zhihong uses her knowledge to advise generously, "Out here I see that many American people are very independent, I suggest that young people learn that right now."