The Red Jumpsuit Apparatus comes to SLC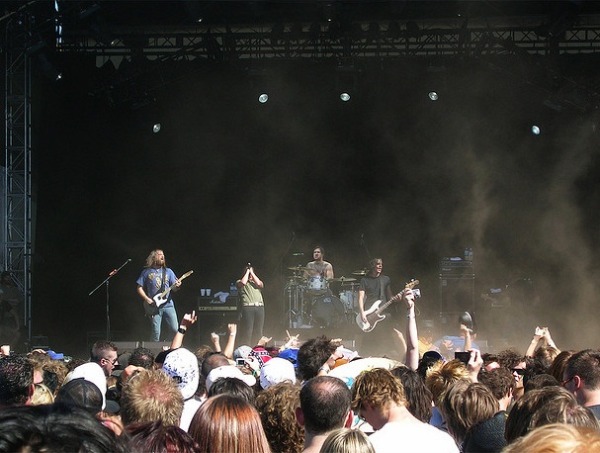 Red Jumpsuit Apparatus is an alternative band and has just released their fourth album titled Four. It was released on July 4th. It hit number one on the Christian radio first week. It's topping charts with there single Right Direction. They've been touring with Hawthorne Heights on the Hope Revolution Tour. Other bands touring with them are Famous Last Words and Everybody Run.
They recently stopped in Salt Lake City, Utah for their tour. The show took place at the Complex which is one of the newest venues in Utah established in 2009. It was a very bright and well lived concert and there was never a dull moment as it was a very fun night for anyone who came.  When the openers came on there were few people waiting on the floor unless the audience wanted front row for Hawthorne Heights or Red Jumpsuit Apparatus.
As the night progressed more and more people funneled in until it was packed.  The openers played for around an hour with Famous last words the most popular opener playing last and then the fun really started. As soon as The Red Jumpsuit Apparatus hit, the crowd just started going crazy and erupted in cheering. Everyone immediately got into the music and did everything that the lead singer told them to do when he said jump, everyone jumped, if he wanted the audience to clap they did.
It was a very lively scene. Even though The lead singer Ronnie Winter had an injured heel and couldn't jump around everyone still went wild. The show was a very good and Red Jumpsuit played a very good show everyone at the concert had a very good time with the band interacting very much so with the audience they did a very good job of making everyone seem included. Though Red Jumpsuit Apparatus played a short set consisting of fifteen songs.  Though they played most all their hits like Face Down, and You Better Pray which are there most well known songs.
If you're into alternative or hardcore music the Red Jumpsuit Apparatus is a band you would like. Their new album is one of there best and it comes highly recommended same with the band. The new album is not as good as the first but it's definitely close to the second spot it is for sure up there. There are less scream vocals in there new album so if enjoy scream this album might appeal less. Four has some really great vocals which definitely make up for the scream factor.