Students stay in shape for upcoming team tryouts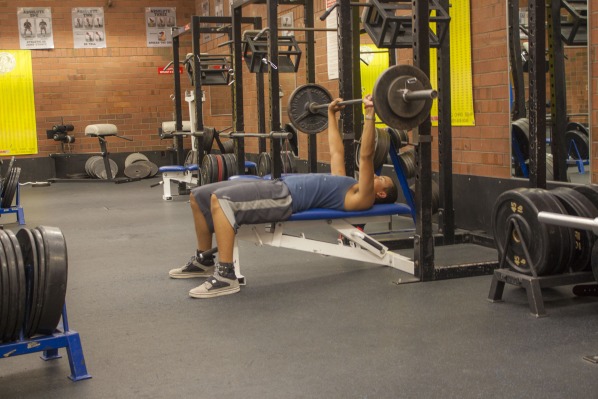 Basketball tryouts are coming up soon, and students are going to the fullest extent in order to achieve their goal of making the basketball team. Whether it's  varsity or junior varsity, students are anxious for the opportunity to play for the school's teams.
Some are taking extra time after school to practice and strengthen their body to make sure they are in shape for the team.
"For the upcoming basketball tryouts, I am taking time after school to practice my shot over at Overlook Pointe apartments. This weekend I am planning on exercising my lower body" said Max Lehauli, senior.
Ethan Ormsby was excited to speak of his training routine to get ready for this upcoming season.
"To prepare for this season, I have been running a mile every morning and night. On weekends I have been running five miles," said Ormsby.
Aside from physical preparedness, it is important that athletes prepare mentally as well.  Basketball offers a mental challenge because the mind has to be ready to perform on the court. As the tryouts come near, students are doing their best to fight for a spot on the team.
Students are encouraged to think positive and try their best. Some of the world`s best athletes have not always been good at something, but have ultimately succeeded. Whether the reward is ideal or not, working hard will not leave anyone empty-handed.
This year's new head basketball coach, Garrett Wilson expresses that making the team isn't just about skill, it's much more than that. " Assertiveness and leadership are what I look for in a player," Coach Wilson.
"I will work with any student on the team who needs help with fundamentals," says Coach Wilson. With this being his first year coaching at Taylorsville, he understands the pressure of being "new" and he's willing do everything he can to help students wanting to play basketball.
"I wanna see good work in the classroom more than on the basketball court,"  says Coach Wilson. Coach Wilson is a strong believer in putting school and education first. He requires all students to be on top of all subjects in order to play for the team.
When asked about his preparation for the upcoming season, sophomore Stephen Myers told the Warrior Ledger, " I am training drill after drill, practicing with a basketball and tennis ball. I do the kill ball for 3 minutes straight". Myers is fighting for that starting point guard spot or he could be trying to carry the team on his own with that hard work he is doing. He is hoping that his efforts and daily training will pay off in the upcoming tryouts
Students are advised to make sure they are working hard in the classroom as well as on the basketball court. With all high school sports, you must be a student before you are an athlete. Talent can beat hard work, but if you lose your talent for any reason, you need hard work to support you; talent means nothing if you don't work hard. Being a student athlete you must work beyond the field or court. Sports are both a mental and physical game so in order to compete at the highest you must compete in the classroom as well.
There's nothing wrong with trying and not succeeding. All students are encouraged to come out and try out for the varsity, junior varsity and sophomore basketball teams. Basketball clinics starts on Monday October 6 from 7 pm to 830 pm. Any students interested should go get a registration from Coach WIlson.