Same-sex marriage legalized in Utah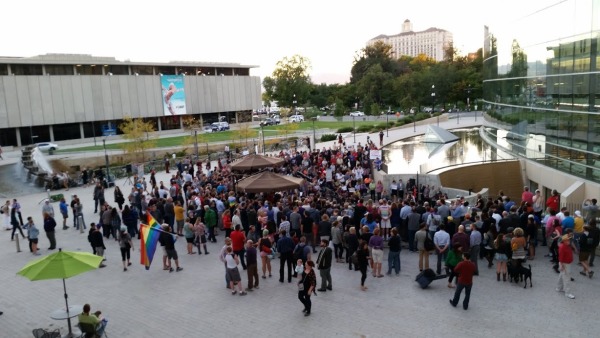 As of Monday, October 6, 2014 the US supreme court declared themselves to stay out of the nationwide debate on legalizing same-sex marriage. This statement upset many. Since Monday, 19 new states are pending for marriage litigation. According to USA Today, soon 30 states will allow same-sex marriage which means 60 % of the US will allow legalization for same-sex unions. Alongside with many states giving the freedom of marriage, others want to hold it back.
The right to get married was originally set into place to be obtained by a male and female. From state to state, or governor to governor the opinion of this right is different for Texas, Florida, Arizona, Kentucky, and Missouri, who are at the federal appellate level, and Arkansas, California, Colorado, Connecticut, Delaware, Hawaii, Idaho, Iowa, Illinois, Indiana, Massachusetts, Maine, Maryland, Minnesota, North carolina, New hampshire, New Jersey, New Mexico, Nevada, New York, Oklahoma, Oregon, Pennsylvania, Rhode Island, Utah, Virginia, Vermont, Washington, Wisconsin, West Virginia, Wyoming, plus Washington DC, who have legalized marriage between same-sex couples. Then there are those who respect couples if married in another state, but do not release  marriage licenses in their court rooms.
This is not the first time same sex marriage has brought up debates throughout the country. In 2006 the United States House of Representatives voted on an amendment to legalize same sex marriage federally, however it failed 236 to 187, short of 60 votes.
In 2013 a US district judge, Robert J. Shelby ruled in the Herbert vs Kitchen case, which challenged the same-sex marriage ban in Utah. Shelby took action by striking down this ban, within the next three weeks and estimated 1300 couples were married. However a stay was issued and all rulings were put on hold.
The US supreme court questioned if nationwide same-sex couples should have the freedom to get married. In doing so, on October 6, 2014, the United States supreme court made the executive decision that the 10th Circuit ruling stands and same-sex couples will be free to get married in the state of Utah.
"Who are we to judge someone's sexual preference? […] You can't simply change how you feel about someone, you are born with what you will be attracted to," said Bruno Oliveira, Junior.
As some feel very strongly that marriage is a right and should be given to everyone, others do not. Many religious and personal opinions come into play with topics that include such controversial arguments as this. Even with such diverse opinions about these recent legal developments, over 64% of US population will soon live in a state that allows free marriage (same-sex marriage) rights.
"I love that gay marriage is legal, it gives an aspect of freedom to our society that not all are privileged to have," said Oliveira.