HeforShe Campaign advocates gender equality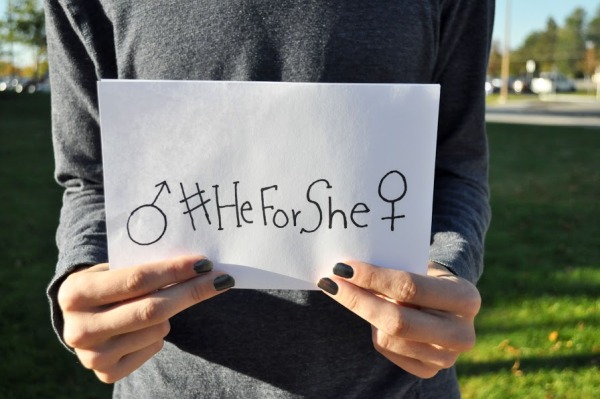 "If not me, who? If not now, when?"
On September 20th, 2014, Emma Watson closed her address to the United Nations with the significant and thought-provoking quote above. Many know Watson for her role as Hermione Granger in the Harry Potter movies, however on this day she stood as an advocate for women's equality and launched the HeforShe movement. This recent campaign created by the United Nations boasts being the first of its kind,  formally inviting the male population to advocate gender equality.
While this new movement offers undeniable innovation, it is far from being the only change to the world of feminism. Currently, young women everywhere are showing their individual power as they defy all odds and enter workforces that were once male-dominated. Examples of these careers include jobs in math, science, and military service, however more and more women are taking an interest in these fields. Within the recent decade, the number of female graduates from The Massachusetts Institute of Technology– a university hailed as one of the most prestigious math and science schools in the nation– has increased by 17.4%.
Yet still, the workplace is far from fully supporting gender equality. According to The Salt Lake Tribune, working women in Utah only make seventy-cents for every dollar men make. Some female students have even seen this difference within their own jobs. High school senior, Amber Rose Dwyer said, "Work in general is like an older gentlemen club. We need to empower more women and make them feel strong enough."
For the moment, wages continue to inequitable, however this hasn't stopped young women from fighting for equal opportunity in the work place. JROTC member and high school junior, Isabel Miranda said, "Just because I'm a female doesn't mean I can't do what a male does, we can be leaders just like them and do a great job." She suggests that young women "do your best […] and set the example for others around you. Be that person that others look up to."
What does this change in feminism mean for the male population? In Watson's speech, the importance of male involvement was the central idea of her statements. Not only did she claim that they must help, but she also stated that they too are affected by gender bias.
She said, "We don't often talk about men being imprisoned by gender stereotypes but I can see that they are and that when they are free, things will change for women as a natural consequence. If men don't have to be aggressive in order to be accepted, women won't feel compelled to be submissive. If men don't have to control, women won't have to be controlled."
Despite being well-meaning at heart, this particular subject has sparked a great amount of controversy. Alec Johnson (real name withheld) said, "I think whenever there is a significant change in society people will fight against it, but I still think that most people will be willing to support this."
If individuals are interested in helping this cause they may log online to www.heforeshe.org. Here men and women may make pledges to support the campaign, find out new information concerning the issue, and learn ways to spread awareness about the movement. At the present time, 185,947 people have pledged their support to the cause with the number still growing. As more and more individuals add their voice to the campaign it is hoped that the general lifestyle of both men and women will increase substantially.
"If we stop defining each other by what we are not and start defining ourselves by what we are—we can all be freer and this is what HeForShe is about," said Watson, "It's about freedom."