Big Hero 6 proves successful yet a little cluttered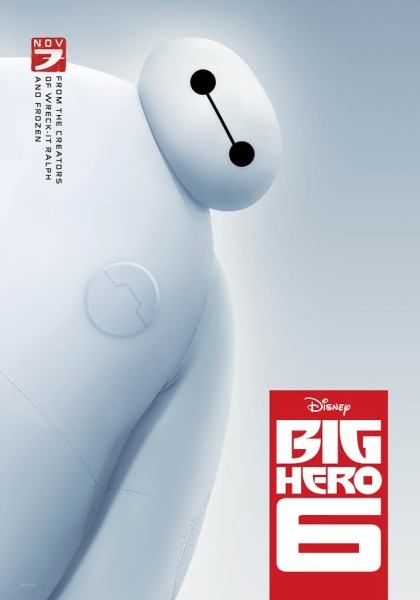 Big Hero 6, released November 7, is the story of Hiro Hamada (Ryan Potter), a robotics prodigy, and an inflatable medical assistant called Baymax (Scott Adsit). It takes place in the fictional cross-bred city of San Fransokyo, which predictably looks similar to San Francisco and Tokyo with a more evolved, futuristic atmosphere.
Hiro has used most of his robotics talent to win back-alley robot fights, which his brother, Tadashi (Daniel Henney), worries is a waste of his potential. To get Hiro to use his advanced skills for the betterment of society rather instead of illegal gambling, Tadashi brings him to the robotics lab at the university where he studies to meet his friends: Go Go Tomago (Jamie Chung), Wasabi (Damon Wayans Jr.), Honey Lemon (Genesis Rodriguez), and Fred (T.J. Miller). Excluding Fred, each of his friends are a part of an advanced engineering team at the university. After introducing Hiro to his friends and their enlightened science endeavors, Tadashi introduces him to his own project, Baymax.
The trip to the lab ignites Hiro's interest in developing more than just back-alley battle robots and he begins his own project, with hopes that it could help him get accepted to the university so that he can continue his growth in the robotics field. After the plot takes a tragic turn, Hiro loses his drive and puts his life on hold. In the weeks that follow the tragedy, Hiro stumbles upon a few clues sparking a vengeful interest and is reunited with his brother's friends from the robotics lab. In the end, they label themselves superheroes and go by the group title 'Big Hero 6'.
The animation was very well-done and the story was heavy, interesting, and produced in a way that it could appeal to younger or more mature audiences. Though the entirety of the film was abundant of entertaining scenes and sequences, the first half seemed much more thought out than the second.
The second half felt like it had come from the first draft of the script where the major scenes weren't yet fluidly connected from one to the other. They found scenes that they wanted to be in the movie, but the transitions from one to the other were quick and out of place. There wasn't any need for the audience to make inferences or anticipate what would happen next because every answer was thrown in front of the viewers' faces.
Overall, the film was an overly zealous animated action drama. It's cluttered, filled with stereotypical characters, and doesn't have the everlasting charm needed to make up for multitude of other flaws contained in the overly abundant amount of time it takes out of your day.
There is no balance between humor and drama. The easiest thing to compare it to is a cookie decorated by a child. A child doesn't think about the finishing result of the cookie. A child will slather as much frosting and sprinkles onto it as it wants because it believes that it's making the cookie incredibly beautiful, but it's a child and most likely doesn't have a proper understanding of aesthetic appeal, so the cookie will end up being a complete wreck that looks and tastes disgusting. Though however unappealing that might be for adults, kids will always love it. The same goes for Big Hero 6. The movie starts out nicely, but it loses its appeal as more frosting and sprinkles are put into it.