Moochies meatballs and more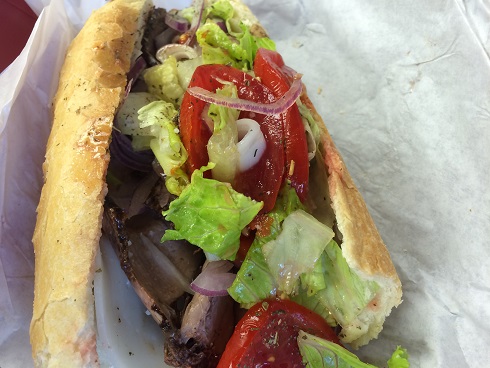 As soon as patrons walk in, they can smell the meaty aroma and soon it would overtake all senses. They step in line to decide what they would like to salivate over that day.  Moochie's Meatballs and More! is the ultimate lunch spot. There are many choices on the menu for meat-lovers, including an authentic Philly Cheesesteak, which Moochie's are best known for. There are vegetarian choices for those who aren't particularly fond of meat. This restaurant has been one of the many stars on the Food Network's hit show, Diners, Drive-ins, and Dives. Guy Fieri has reviewed this humble establishment and loved it.
Moochie's was forged in 2003 by the owner's wife, who was originally from Philadelphia and had a dream of showing Utahns how real Philly Cheesesteaks taste like. The owner, Don MacDonald, started his business as a pottery shop in 1987. He then met his wife, Joanna Rendi, and started the restaurant after years of thinking about it. They have been running for a couple of years but have three locations in Lehi, Downtown SLC, and Midvale.
Moochie's have won all sorts of awards for their delicious food. They have won the 'Best of Diners, Drive-ins, and Dives' award, they have won the 'Best of Utah 2013' award, and the 'Cleanest Plate Award' awarded by National Restaurant Magazine. They have received many recognitions for their fast service and their cleanliness.
The atmosphere of this little place is fast-paced, relaxed, and lively. The service is energetic and active and anyone would love this place. The food is great and satisfies the hunger within by its tender meats and its weird appetizers like the Fried Ravioli. At an affordable price, the sandwiches are tasty and delicious. The employees are friendly and seem like they understand the need to be quick. Moochie's Meatballs and More! is the place to go for all your hunger needs.