Novel praised for being a great read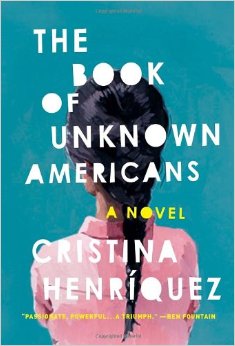 The Book of Unknown Americans is a wonderfully written fictional novel by Cristina Henriquez. The book is recognized as a very unique and passionate story. There is a lot of love and heartbreak in this must read book.
The book has received many impressive reactions. The New York Times put it as one of 2014's most notable books. Also, it was one of the top 10 books of the year for Amazon. This novel was also considered for the Andrew Carnegie Medal for Excellence in Fiction.
Cristina Henriquez has been greatly praised for this novel. She makes the characters come to life and keeps the reader's emotional throughout the whole book. It seems a little slow going at first but then when you learn more about the characters and sort of feel for them, it starts to become evermore engrossing. Some of Henriquez' other works are The World In Half and Come Together, Fall Apart: A Novella and Stories. This novel  the Alfredo Cisneros Del Moral Foundation Award. She writes the story in a way that makes it seem to the reader as if though it were a true story.
Having the story being told from a few different points of views is one of the things this book really has going for it. It keeps the reader intrigued and guessing. It also provides many different looks on situations that some people that happen throughout the story.
It follows the lives of a couple immigrant families and what they go through together. Focusing in on the main character, Maribel, who's about 15 and because of an accident has disabilities. However, this doesn't falter the attention of a young kid named Mayor, who ends up falling head over heels for her. Their love story is observed through his eyes and the eyes of others who are close to these two characters.
Even though the book is fictional, it does not let you think that. With realistic events and characters, it brings to life the hardships many can and have gone through. Some people may even be able to relate to the characters or their situations at least.
Due to some happenings and language in the book, however, schools tend to be very wary of this book. Luckily, the option of reviewing the book has pronounced itself. This may help to bring the book into schools and provide for students to get deeper looks into some real things.
If you love books that really draw raw feelings from your core, this is a great read. It seems very realistic and yet has many different imaginative aspects. The book really seems to be worth a look over.