Student Spotlight: Jalissa Cloward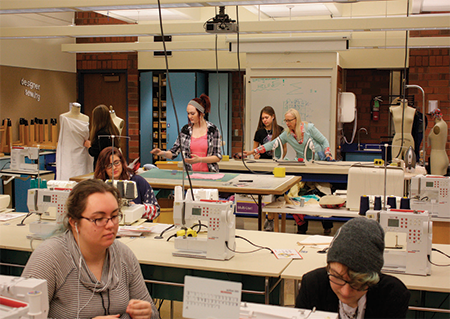 Starting in the margins of a class notebook, doodles transformed into designs and crafted the life of high school senior, Jalissa Cloward. As the current FCCLA president and a returning member of the Fashion Institute, Cloward seamlessly seizes every high school opportunity afforded to her.
Cloward mastered the needle and thread in kindergarten, however dexterity on the sewing machine didn't develop until her junior high years. She said, "When I was little, I saw my mom [sewing] so of course I wanted to be like my mom. […] When I first got into design and knew I wanted to be a designer, I just started doodling dresses and it kind of just snowballed after that."
At the present, her days come packed with college applications, sewing competitions, and typical student stresses, yet this in no way impedes Cloward from chasing after her dreams. Representing Taylorsville at the FCCLA regional competition, she placed as a silver medalist in Fashion Design. Now she anxiously readies herself for the upcoming State competition and looks forward to the school sponsored fashion show on May 5th.
"She really has her focus set on being able to do something with fashion and she's always loved fashion." said Fashion Institute teacher, Carol Anne Rockwell.  "She's just very personable, people like her, and they enjoy having her around."
And this friendly aura Cloward possesses that sets her apart from the rest of the school. Even in her artistic endeavors, her end goal strives to improve the life of others by offering convenience with a side of self-confidence. She said, "One of my main goals is helping women feel more confident and comfortable with being dressed modestly. I feel like I can make a difference with helping other people feel good about themselves and with the way they dress."
Outside of the sewing room, exterior elements transcend into her designs as well. Most notably, however, is the influence family possesses on her career aspirations. As the fourth oldest of nine children, family maintains huge relevance in every aspect of her life. She said, "If you want to go anywhere, you need your self-confidence, but it also helps to have a great back-up team somebody you just know is there to support you no matter how annoying they get. When you're younger, you fight, but some of my siblings have become my best friends over the years and I know they support me 100%"
In the fall, Cloward looks forward to attending Snow College in Ephraim, Utah where she plans on preparing for a career in design. Whether she's modeling Tville Blue or Badger Orange, students can be certain she'll be rocking it with awesome accessories and the sparkle of self-confidence.
As Marilyn Monroe famously said, "Give a girl the right pair of shoes, and she can conquer the world."