Warrior Reads: Ellen Hopkins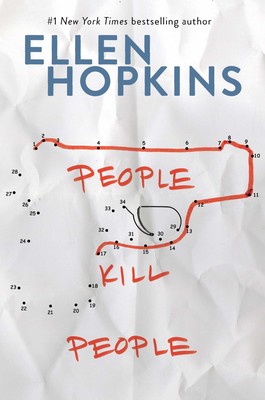 Crank, Burned, Impulse, Triangles, Tricks, Identical, Rumble, The You I've Never Known, and now fresh on the shelves People Kill People. Ellen Hopkins is a well-known author for teen literature. Following along with tough and mature content, Hopkins' new book touches on concepts such as white supremacy and gun violence.
People Kill People is a story revolving around six main characters; Rand, a 19 year old father who is married to his high school sweetheart while working in construction to support his family, but there is something from the past he just can't let go. Silas, a student highly involved in a white supremacy movement, after his dad left his mom for a Mexican woman his grudge seemed to linger. Daniel, a homeless son of an undocumented immigrant who lost his dad and feels unwanted by almost everyone. Cami, Rand's sweetheart and the mother to his kid, who also happens to sell drugs as an income. Noelle, a car crash survivor with crippling epilepsy, struggling to find her purpose and a companion. Ashlyn, an orphan also involved in the white supremacy movement, but remains strong and independent.. There is a voice of violence that leads readers through the stories of these six characters connecting them all together through the a single gun in a form of poetry.
As you move through the book, you are submerged in their lives from second-person and third-person perspectives. In the book, you know that one or more characters having access to a gun and that the gun will evidently kill one or more characters, but it's not revealed until the very end.
People Kill People takes place in Tucson, Arizona, and one of the issues is immigration. In the book, the six characters take many different stands on the topic. As Arizona is very close to the border, this is a very real issue in our lives, and Hopkins uses her characters to paint the different aspects of this issue.
Hopkins has a reputation of being a banned author due to the strong subjects in her books. To some, being banned is a terrible thing, but Hopkins takes pride in being banned. Hopkins says that readers should stand up for hard reading materials to show that kids who are affected by the topics can have a way of coping. "If my books can help even one of them, they belong on bookshelves in every library," said Hopkins.
Hopkins dedicated People Kill People  "to the far too many victims of gun violence, and to the loved ones who grieve for them. Sending love and light, with a special nod to the young people taken to soon. The future expected you. Now it mourns for you." Inspired by events of gun violence from the past few years, this book adds a very realistic angle of our world to contemporary young adult literature..
One of the strongest quotes from People Kill People is, "What should be illegal is hate. For you. For me. For anyone different." This quote gives voice to the 'NO H8' campaign, which has come up in recent years. I would highly recommend this book especially for anyone interested in If I Stay by Gayle Forman, Thirteen Reasons Why by Jay Asher, and The Warcross Duology by Marie Lu. Although, People Kill People does contain multiple triggers such as child abuse, sexual abuse, violence, gun violence, bad language, drug use, suicide, and trauma.