Emily Fox King – A feminist in pretty packaging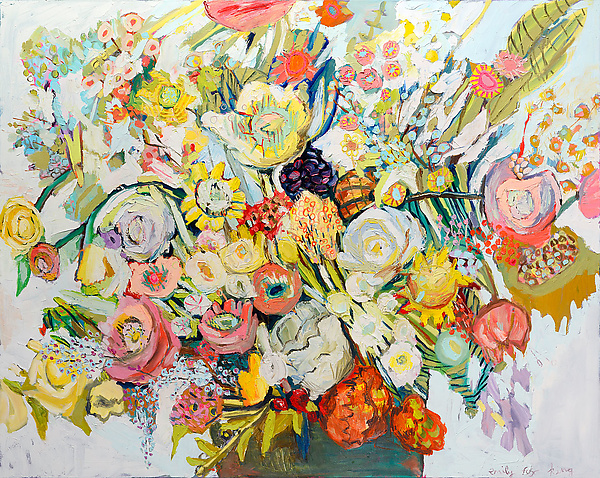 Emily Fox King lives as traditional a life as she can. She and her husband live near Weber University where she teaches Drawing. She is a busy mom of three young children. But there are some aspects of King's life that are less than typical.
Emily Fox King is an artist. She has been for most of her life. Recently, she had two solo exhibitions in Utah simultaneously, one in Salt Lake and one in Provo.
Florescentia, her most recent exhibition, filled an intimate space on South Temple with swirling color and bold floral motifs. Many of her paintings, being four feet or more in both dimensions, make the depictions of floral stills larger than life. The lawless riot of color is almost visually overpowering.
However, it is a collection of floral paintings. Many people, whether in the art community or outside it, would be tempted to say that they are "just" flower paintings.
As is the case with many pieces of art, the work Emily Fox King does has its own message, one that transcends a simple "flower painting." Through all of her artwork, including the pieces exhibited recently, King strives to portray both femininity and feminism.
Feminine is defined by Merriam-Webster as "characteristic of or appropriate or unique to women." How better to display femininity than through vibrant colors and larger-than-life flowers?
Emily Fox King shows her audience the definition of feminine by portraying larger-than-life flowers, an object that has been historically labeled as womanlike. However, she does not only display these characteristics explicitly but through her constant display of flowers, she implicitly displays the "feminine emotions" that all humans experience. Many of them associated with events that sponsor grand floral arrangements: Grief, joy, sadness and even love and devotion. All of which have been labeled feminine by society and all expressed through flowers.
King additionally shows feminist views through her art by establishing her portrayals of flowers as larger-than-life. She shows the importance of the flowers and the events and emotions they represent. By portraying this importance, she is advocating for attention to the feminine and the women of the world.
Though Emily Fox King's newest exhibition is exclusively full of 'just' flower paintings, there are so many messages she displays just as boldly. Standing for women and the feminine, she is a Utah artist making an impact on the world by portraying feminism and the emotions that come with it as works of art.