School Musical: The Addams Family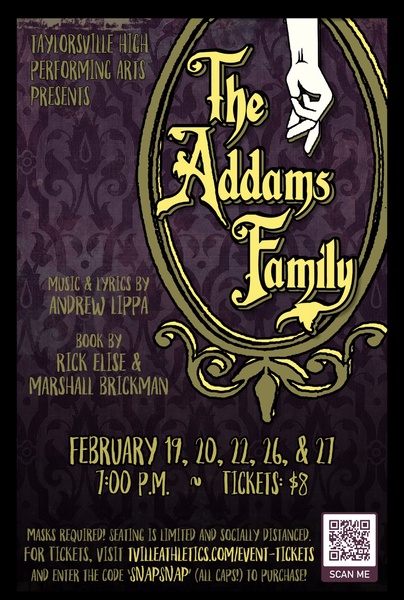 Taylorsville High School's musical opens Friday, February 19th. The Addams Family Musical is a show full of jokes, dances, and an hour of entertainment. The show features the cooky Addams family as they struggle to remain united in love as a family through their secrets. With bright and fun solo songs, the ensemble adds their unique personalities through the ensemble numbers. With five performances (February 19, 20, 22, 26, and 27) the cast prepares to showcase what they've worked so hard on.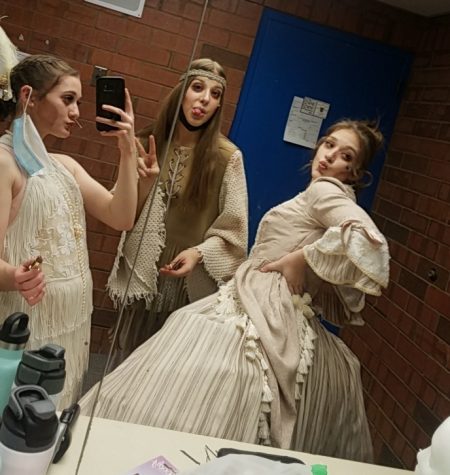 "It's hilarious. It's not like a boring theatre performance, it's an actual funny show. There's a good amount of humor in it with some emotion. It's just entertaining. And I'm bald!" says junior Brandon Sorensen who plays Fester in the show.
While COVID-19 has impacted everything else, the musical has also been changed. "Mostly the way we rehearse, we do our best to stay distanced as much as we can as well as keep our masks on. But it's also made us really grateful that we can do it. It's pushed us to work harder and sing louder. It's just different but I wouldn't say that it's terrible or anything," commented senior Jessica Robinson who plays Morticia.
Indeed the cast has been safe practicing with masks on and keeping distanced as much as possible. And this has pushed them to work harder than ever before. The cast only got the all-clear to perform in person after everyone passed a COVID test and the Vice Principal gave approval hours before opening night.
"Luckily we've been blessed to have an in-person audience. And although it's limited we still have a good amount of people who can see it. We've been lucky to not be shut down and still perform," remarked Sorensen.
The cast has put so much effort into this show. "It's been kind of a struggle because we've had practices kind of late, and rehearsals every day. So I just do homework when I get home but I don't have much time for anything else right now," says senior Dallin Tenney who plays the drums in the orchestra.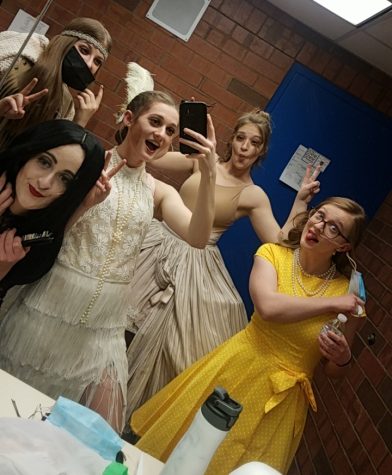 With two performances left, the cast gets ready for their final 3 performances. Don't miss out on this great opportunity to support the school.
"It's a really cool dynamic and it's really cool to watch," said Robinson.
"It's fun and it makes me laugh every time I watch it and I've seen it six times. Go see it!" advises Tenney.