Witches take flight over at Gardner Village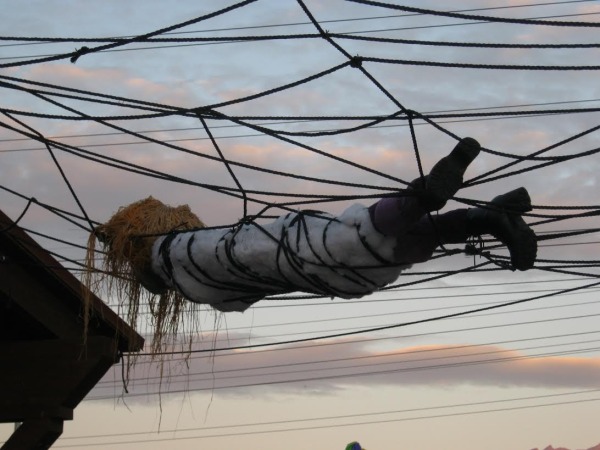 Exciting displays, wondrous entertainment, and thrilling experiences were happening throughout the month of October at Gardner Village. The events had been going on since late September and continued through October 31st. This year's monthly thrills were successful with many large crowds who attended, especially during the weekends when the most popular events were held.
Witchy displays had been put all around the village to bring laughs and make for good pictures, creating great memorabilia of the events and season. These witchy displays depicted many different witches of all shapes and sizes in wacky costumes.They were displayed in forms that seemed to  entertain  as crowds walked around the village, such as the one in an outhouse and  the one that had crashed against a water tank, as well as the biking witch flying over a small pond. Many of the "wee-witches" seemed to think the events and witches were exciting as well.
Junior Jenan Alaetiaj said, " The displays were really cute and funny and caught my attention a lot."
Some of the events that were held were those such as Breakfast With A Witch and Witchapalooza dinner . At these events you were able to be entertained by a new show called, "The Lyin, the Witch, and The Warlock", as well as go around and mingle with some of the witches and get photographs with them.
Along with the thrills of eating with the witches, one of the events hosted were of  nights especially for the lady's on the weekends of October 10-11 and the 24-25, called "Witches Night Out." At these exciting events ladies got to dress up in their most craziest witch costumes and go around getting great deals at some of the villages shops as well as participate in games and enter in contests, like the one for the best witch cackle, watching a parade and then ending the night dancing on the main floor.
" It was a really fun experience. The shops were nice and had neat things and the people were really sweet." , said Alaetiaj.
The costumes of some of the witches and attendees themselves were quite extravagant. These dressed up divas ensembles ranged from simple little halloween costumes to extraordinarily put together costumes that seemed to delight others and capture a lot of attention for photographs.
Alaetiaj said, " A lot of the costumes were really pretty. I really liked  them."
The festival of witches was a hit for everyone. Although there were very large crowds, making it difficult to get around,  the spells seemed to work because for seemed to be having fun and enjoying themselves.