Students celebrate Halloween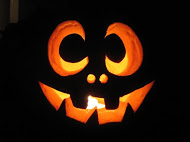 Halloween– the night of spooks, scares, and all around fun. In the 1993 movie, The Nightmare Before Christmas, a singing cast of ghosts and freaks proclaim that their town serves as the exemplar of Halloween spirit, however to the Warriors of Tville High School, Halloween is so much more.
 "Trick or Treaters" coming up to the door and practically shoving their pillowcases stuffed with candy in your face. This is the night to be the King or Queen of Halloween. This is the night of complete terror. Halloween is nigh and students better prepare for some scares.  
 Halloween originated 2,000 years ago as a pre-celebration for the ancient celtic festival that was known as Samhain, an event that was celebrated on November 1. It was believed that on October 31, the dead would come back as ghosts. Leaving food and wine on doorsteps as offerings, they would only vacate their homes wearing masks and other disguises so as to blend in with the ghosts. Once known as All Hallows' Eve, the name changed many times before becoming known solely as Halloween.
 An early tradition of Souling and Guising originated in Britain where beggars would dress up and wander from door to door asking for foods and in return they would pray for the deceased or perform for the givers. A later form of this where people intentionally give and receive candy would become known as Trick or Treating. Back then, however, it was more about the tricks and pranking than it was about the treats. Then in the 1950's it became a more family friendly custom to dress up and go around asking for candy. This is the Halloween we have come to know.
 In Mexico, celebrations differ from American traditions, yet Mexican traditions more carefully follow early Halloween traditions. Dia de Los Muertos, a holiday that honors deceased family members, is a 3-day festival in which family members welcome the spirits of the dead back to Earth for a temporary visit. Altars adorned with the traditional foods, candles, and pictures of the deceased.  serve to welcome the spirits of the dead back for a three day visitation.
 To express the joy of holiday, individuals engage in festivities such as dancing, music, and dressing up in traditional costumes that resemble skeletons.      
 Students at Taylorsville celebrate Halloween in diverse ways as well.
 For Katie Harvey, a sophomore at the school, Halloween is a chance to become a new person by using a range of different costumes.
 Fellow sophomore, Malia Hansen, said that the sugary sweets of Halloween remain her favorite part, even though her traditions have evolved from trick-or-treating to Halloween parties.
 Meanwhile high school Senior, Annie Tobin, adores Halloween because of the spectacular spooks that ensue. "You get out [of the haunted house] and your heart's pumping," she said.
 The school also hosts a yearly Halloween stomp that provides students with the perfect atmosphere for socializing during the night of one thousand spooks.
 Senior class secretary, Brooklyn Smith said, "It's gonna be really cool and with what the sophomores have it is going to be amazing. It's their first dance so I'm excited to see what they do. I've seen a lot of their potential during homecoming week and I know that they'll do a great job on this one."
 Masks, blood, candy, haunted houses, a night in with scary movies, Halloween is right up anyone's street. We don't have to dress like beggars to get candy, The Halloween spirit is much more than that.