HOPE squad provides additional student resource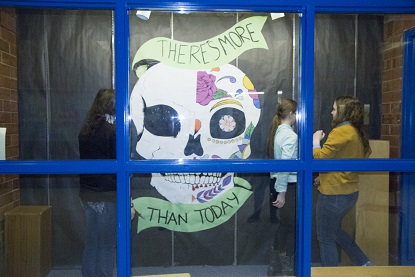 According to the AFSP (American Foundation for Suicide Prevention), every day more than 5,000 teenagers attempt suicide. In Utah there is an average of one person committing suicide every 15 hours. Suicide is the second largest cause of death for teenagers and adults 15 to 44. Statstics from afsp.org state that in 2015, for every 100,000 Utah citizens 19 of them commit suicide. This places Utah as one of the highest ranked states for suicide. According to standard.net Utah has placed within the top 10 for the past 15 years, in 2015 Utah was ranked as fifth in the nation for loss due to suicide.
Not many know about the Hope Squad, which is a rising organization in schools that is aiming to change the future of suicide statistics. The Hope Squad is dedicated to helping those that suffer from thoughts of suicide and depression. Hope Squad serves as the ears and eyes for the school. The students taking part in this club are not here to act as a counselor or professional, but to report any warning signs to an adult.
As a teenager we have this organ, the brain, that we aren't quite sure how to manage. Teens don't know how much they can truly handle. Typically one can say they're upset, but not many are able to come to terms with why they are. It is easy to say I'm sad, or I'm mad but acknowledging the factors that you get sad or mad or any other emotion is another step in healthy mentality.
Self harm comes into sight for many when going through a struggling time. There are various elements that influence humanity to inflict pain to themselves. Wistfully, it seems the pressure of becoming a superb teenager has taken over the state as a whole. Everyday, the number of people that self harm continues to grow.
The faculty at the school have been taught to watch for all the warning signs; frequent cuts and burns, wearing long pants and long sleeves all the time, low self esteem, and poor problem solving abilities. Now doing one or more of these things doesn't mean an individual needs help, doing none of these things doesn't necessarily mean an individual is not in need of help either.
It's hard for anyone to know and acknowledge the fact that they might need someone to talk to about their difficulties. Remember that the staff of the school are here for you. It is their job to teach students 1 + 1 = 2 and where to properly place a semicolon; it is also their job to help form healthy minded teenagers that become stable adults.
Principal Dr. Garett Muse said "As kids get really upset and really down they make bad choices… Kids suffer from depression time to time, and it's hard to understand. Then kids try to cope with it all by themselves, but what they need to realize is there are people here to help you… Sometimes it can be a teacher who helps you, sometimes it needs to be a psychiatrist, and sometimes it can be another student. The Hope Squad can help them".
Hope Squad was founded with the ambition to help the kids who are struggling. The select few students in this club want to truly make a difference and help all those around them. They meet the first Tuesday of every month in room F-207, contact Ms. Floch or Ms. Borrowman for an adults help. The co-presidents, Katie Conrad and Max Andrus are also available to talk to at the counseling center. This club aspires to continue to grow and help those in the community. Know that if you or someone you know is needing a little incentive, we encourage you guys to reach out to the Hope Squad and faculty.