Programs aid latino students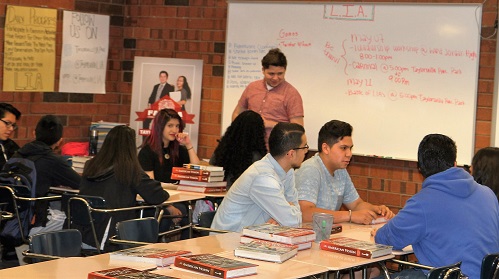 Latino students make up 27% of the school's population. This makes them the highest non-Caucasian group in Taylorsville. But, in reality they're the ones who are failing the most, the males are the ones that predominate this group.
Even though teachers are doing everything that is possible to help this low-achieving students, the educational system in our district is banning ideas that can help these students achieve higher.
Teachers have the initiative to help the students, but they have to give results to the district. While inside their classrooms they often have to focus on the "average" students, holding back those students that are gifted and want to obtain a bigger challenge, and pushing those who are not understanding. In a way, this represses both sides of the spectrum, but the only ones that seem to count are the average ones, the ones that get it.
Many are the occasions when high personal in schools or in public positions try to motivate students into achieving higher, without realizing the struggles that they go through in life. Some of the students don't have the same opportunities as other groups. The AVID program for example works on getting students ready for college. It is a program a lot of students take advantage of, but most of them just can't, because of their  immigration status primarily. In an article written by Irma Doris Mendiola, part of The University of Texas-Pan American cohorts, from the Journal of Hispanic Higher Education in 2010 states, "The dropout rate for Mexican American students was nearly three times greater than the national average in 1980, and though it has dropped since then, it is still more than four times that of Whites and more than 2½ times that of Blacks."
This only represents a part of reality. According to the AVID website, students from the Hispanic and Latino community take the most advantage of the program. In the 2013-2014 school year, out of the 36,481 seniors that were part of the program, 57% were Hispanic.
Most parents of Hispanic students didn't go to college, English is not their first language, and many are affected by their immigration status.
In the documentary 'Boys in Peril', the director demonstrates how three Hispanic boys struggle to make it through high school, many of them feeling like they never fit in traditional school systems. With them having to work, study, taking care of their siblings, and still trying to accommodate themselves with the culture in school and also in their family. Their story is no different than many of the other students who struggle to maintain an equilibrium in their educational and their personal life. Many of them have jobs to help sustain the family, due to various reasons.
Many others have to go home and help to take care of their siblings because their parents have to work two jobs, or work long hours. The list can continue  forever. The point to target is how to help these students succeed in their careers to pursue.
Taylorsville Principal Dr. Muse said, "At least 50% of our students don't go to college, and that is not just one ethnic group, but we have 50% of our kids who decide that they are going to go into a career or do something with their lives that doesn't relate to college […] I don't look at that necessarily as a bad thing, every kid may not need college for whatever they choose to get into, we will like every kid to get some form of training, we like kids to get a certificate of some kind that helps them go on and be successful[…]"
Many ideas have been proposed to help alleviate this problem, such as individual help inside of the classes, which becomes necessary due to the obligation of the teacher to move within a curriculum plan, which often causes a big gap between those low achieving compared to those in a more advanced placement.
But, try after try teachers have been finding themselves faced by impediments.
Still there are famous cases of teachers who help their low-achieving students succeed. Such is the story of Mr. Jaime Escalante, who was a teacher at Garfield High School, in East Los Angeles, California from 1974 to 1991. He is best known for his students' success in 1982 when they took the AP Calculus exam, and all 14 students passed it, later accused of a suspicious sabotage, coming into the realization that it was all a mistake, and from the 14 who took the test, only 12 retook it, all of whom passed.
Due to his success, Escalante is considered to be one of the best teachers in America.
"We are all concerned about the future of American education. But as I tell my students, you do not enter the future- you create the future. The future is created through hard work," Said Escalante.
Another teacher who has been recognized as been an inspiration to many has been Mr. Octavio Alvarez, math professor in Brawley Union High School, in Brawley, California. He has been awarded the Champion of Change in Educators for helping the latino students succeed in all forms, from passing the ACT to going into rigorous math classes in college.
"We have to learn to be their friends, we have to learn to live their problems every single day. What is a plus for me, is that we have the same background, we are coming from the same place… So it was easy for me to understand my students because he have the same background, so that's basically why I'm a teacher."
LIA president, Ana Zamora, thinks that, "people think that we don't value education… people automatically stereotype whoever you are for your background may not always be true, I know that they're a lot of hispanic students who are actually very smart and very capable of doing things, but it may just be that they don't understand things as the teacher explains it… Something that i'm doing is after school, on fridays, we are going to start tutoring, having people from LIA and form outside LIA helping to tutor, not just hispanic students but whoever needs the help so everybody can prosper." Being in a high position and representing her culture she wants everybody to succeed, "Your family has sacrificed a lot to get us where we are now, and it's only right for us to try as hard as we can to make this sacrifice worth it."