Despite canceled games, soccer kicks off season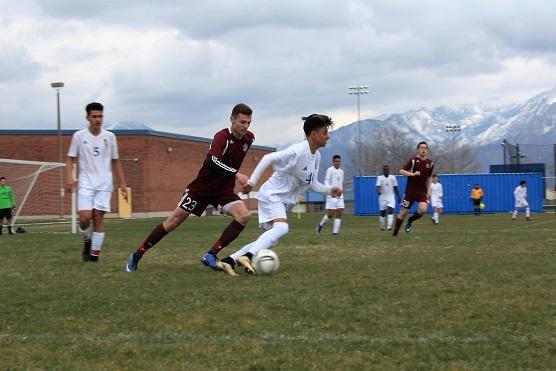 The Taylorsville Men's Soccer team kicked their season off on Tuesday March 8th. This team consisting of young and older kids were playing against West at West's home field. The game was a very good one but Taylorsville being the new team they are had quite the challenge as they fell to West 2-0. They fought hard but were not able to come out on top but they knew they had to shake it off since they had an upcoming game that next week. After the defeat to West the team trained hard they knew they would have to play at all of their top potentials if they want to do something for the season but up next was Herriman on Monday March 14th.
After a long and hard trained weekend the boys found themselves getting ready for a game they know could decide their season so early on. Everyone was ready to go, you could feel the energy within the air the boys were pumped and ready to get that W. Its game time but wait something seems off there isn't any referees! The second game of the preseason is off no referees have shown up and it looks like this game will be played in the future but that is a harsh thing on the boy's with only playing one game so far and they know they will need some preseason games.
A week had passed and the boy's new challenge was against a very skilled Lehi but after not getting that game under their belts they were hungry to be back on the pitch. The game was on Wednesday. The weather was looking like typical Utah weather sunny in the morning and rainy/snowy in the afternoon but nothing big enough to stopping their game. Lunch time came around and they were told that Lehi had cancelled the game due to inclement weather. What a shame two of the 4 preseason games have been cancelled and it's not looking good for the Warriors having only 1 game under their belt. 2 days before their season starts they get a game against Mountain Crest and they are hoping this will be in their favor and that the team will look at its full potential.
Wednesday March 16th comes and Mountain Crest is here at the boy's field and they look ready after a 2-game delay they need to get a message through everyone that they will be up to the huge task that lies ahead of them. Everyone is on their toes and getting geared up ready for their last preseason game. The game kicks off it it's quite a big scoreline with the Warriors 3-4 Mountain Crest but the scoreline doesn't do the boys justice they played their hearts out but they just weren't up to the task.  It was a hard fought match but it wasn't in their favor to get the win but they had to put that past them and look at the bigger picture and that was will they be ready for Brighton?
Friday March 18th the first game of the boy's season and they were ready to go. Everyone was focused they knew they were one of the underdogs this season but right as the whistle was blown they forgot everything else off the pitch and were there to prove a point. It was a hard fought game, Brighton is one of the best teams in the state but the Warriors held them off throughout the game with Brighton getting more shots off. A proud feat to accomplish holding off one of the best teams in state with a brand new team having only 2 preseason games they held them off to the point where they had to go to ET (Extra Time). Taking a team like that to ET was something to be proud of but a few minutes into extra time Brighton were let off the leash and got a goal, what a heartbreak to a team that played their hearts out. You better believe once the Warriors head off to play Brighton at their home they will be out to get the win something they fought so hard for and looking to upset them in front of their crowd.