SENIOR PROFILES: Cheer
Cheer leading has become a pinnacle of the High school experience since it was introduced in the nineteen-eighties at Princeton University. Forty-one years later cheer leading is still a major part of student bodies across the globe. Taylorsville High School Cheer leading squad has been a major part of the community by holding car washes, fundraisers, and recently throwing the Sweethearts Dance. As May grows nearer, nine of our vibrant cheerleaders will be moving forward in their lives and careers. 
Pyper Warren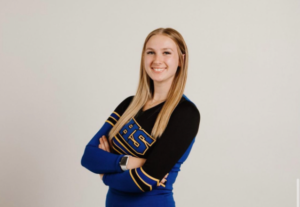 Pyper Warren is a Co-Captain on the cheer leading team and has been cheering for six years. Warren enjoys practicing the captivating stunts and getting them down for performances. Cheer has taught her the gain of teamwork can have and skills in becoming a leader. Hitting comp for Pyper was one of her biggest accomplishments as a Cheerleader. Outside of cheering, Pyper has maintained a 4.0 GPA and has earned Academic All-State. Pyper finds herself painting and reading when is not in school or cheering.  After Pyper Warren graduates this May, she will head off to college to study law.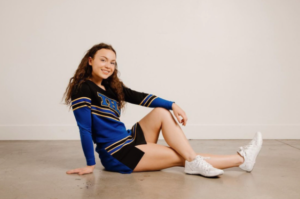 Luci Rosario-Montague Manchado
Luci Rosario-Montague Manchado is a main base and has been cheering for four years. Luci loves the feeling of forgetting everything else but the mat she stands on. Cheer has shown her that not everything in life has to be done on your own and working with others will ultimately get you farther. Luci has already finished her requirements for High School graduation and has been spending her time in Concurrent Enrollment classes at Salt Lake Community College. After graduation, Luci plans on becoming full-time at her job at Cyprus Credit Union to become a Financial Advisor along with earning her generals at SLCC.
Jaycee Mcelreath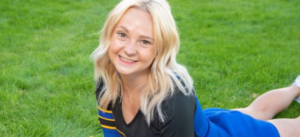 Jaycee Mcelreath is a flyer who has been cheering for four years. Cheering for Taylorsville High  has given Jaycee a sense of accomplishment and has taught her to combine independence with teamwork. Mcelreath plans to continue having a cheer leading career and is going to apply for USA cheer this fall. Outside of cheer leading, Jaycee plans to attend Utah Valley University to study Psychology and plans to use her degree to become a social worker. When Jaycee gets a free second, she enjoys golfing. Jaycee Mcelreath truly enjoys her sleep and considers it a precious commodity.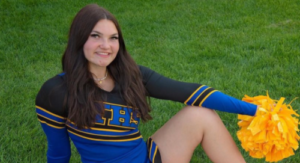 Kylee Sanford
Kylee Sanford is a co-captain and has been cheering for five years. Sanford enjoys stunting and competing in comps. Cheer leading has taught her how to have a good work ethic and how to lead. Kylee considers becoming a co-captain one of her biggest accomplishments as a student-athlete. Once she graduates in May, she will attend Salt Lake Community College and plans to become a pharmacy technician. When she isn't at school or cheerleading, Kylee enjoys sleeping and spending quality time with her friends and loved ones.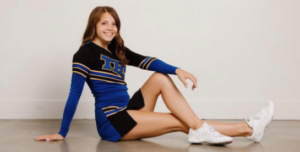 Bailee Leffler
Bailee Leffler is a senior on the team who has been on varsity every year of high school. Bailee has been cheering for 5 years. Being on a cheer leading team has taught Leffler to work hard and be a team player in and outside of cheer leading. Bailee has said being on this team has made her a better person overall. Bailee would love to continue her cheer leading career but her plan for now is to attend a college and intends to become a labor and delivery nurse. Bailee also enjoys dancing and has developed a love for that as well. Outside of sports and school, she enjoys hiking and spending time with friends and family.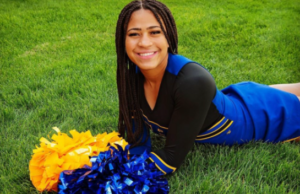 Aaliyah Mills
Aaliyah Mills is a backspot on the team and has been cheering for three years. Mills enjoys tumbling and trying new skills with her stunt group. Being a cheerleader has given her something to commit to and be involved in the school community. For Mills, her biggest accomplishment in cheer has been becoming the head captain of the team. Mills says leading comes naturally to her and was excited with the opportunity to use and gain the skill of leadership. The plan for after graduation is to try out for the Utah Valley University cheer team or attend Salt Lake Community College.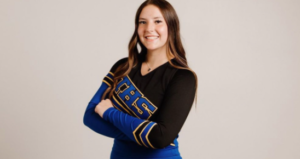 Valicea Novosel
Valicea Novosel is a backspot and tumbler and has been cheering for three years. Novosel's favorite aspect of cheer is competing. Cheer leading has taught Novosel that when things get rough to just push forward and in the end it will get easier. She considers her biggest accomplishment as a student athlete is hitting her stunts at competitions. When Novosel graduates in May, she plans to attend the University of Utah. When she has a free minute, she enjoys shopping, playing with her cats and dogs, and spending time with her family and friends.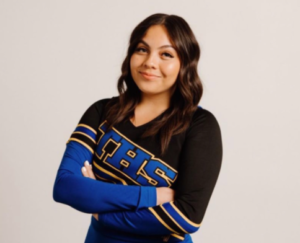 T'onna Bendfeldt
T'onna Bendfeldt is a secondary base and has been cheering for five years. Bendfeldt favorite part of cheer leading is stunting and trying new things with her team. Cheer shaped her life by showing her how determination and hard work can get you far in accomplishing goals. She also learned that teamwork won't always be easy but communication and compromise will get you farther along in life. After high school, she plans to attend The University of Utah to study biology and continue into the dental field. In her free time, she enjoys reading, hanging out with friends, shopping, and traveling.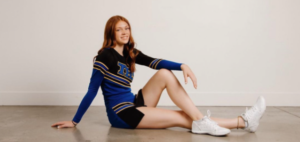 Isabella Kendall 
Isabella Kendall is a backspot who has been cheering for four years. Kendalls' favorite aspect of cheer leading is being able to have a group working towards the same goal. Cheer has taught her to be a hard worker and to be a team player. Cheer has also taught her to appreciate sleep. When Kendall graduates high school, she  to attend college but does not plan on continuing cheer leading. When Kendall has a free minute, she enjoys spending time with friends and family and playing card games.
The Taylorsville High Cheer leading team has accomplished many feats this year and the school is excited to see where these nine wonderful seniors end up in life and their careers.