Girls' Volleyball team make region champions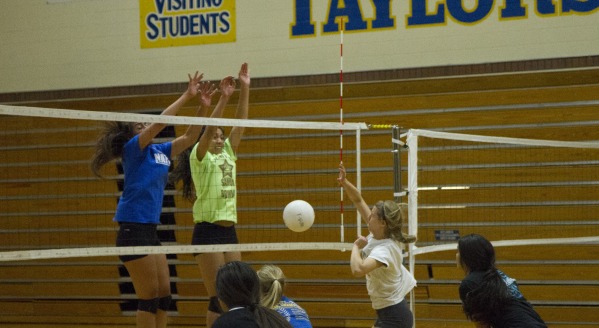 Volleyball being one a sport that doesn't draw enormous crowds, yet still does exceptional despite lack of support from the student body. Tasia Taylor is leading the team as the head captain. Clutching the total season wins now 7-0, pre-Season 3-1, and tournaments ending positive at 8-6 the team trumped this season by making 5A region champions on Tuesday, October 28.
The girls were excited about doing so well in the games, especially against region teams. Recording every region game as a "W" in the books boosted the confidence of every player to achieve bigger and better on the court, from growing in skill level to creating bonds among the girls that should last years down the road.
"There isn't a single place I'd rather be than on the court during an intense match where every single girl is giving her all. Than the ecstasy of clutching the game and winning at the end is one thing I'm going to miss. I couldn't have asked for a better experience, and a better team to experience this with," said Taylor.
Although not every game was won the girls enjoyed the time on the court regardless of any outside influence. Appreciating the simple fact each game is another one closer to the last, the team exhausted every possible ounce of strength in order to end so well, which would explain why the team was especially proud of beating Riverton.
"I have loved almost every moment on the volleyball team and it's breaking my heart that I will no longer have the privilege of playing with all of these lovely girls again," said Jaycie LeBaron.
With only a few games left until state, the girls have high hopes of doing well. Considering the team is number one in region, they should do well November 7th and 8th.
Playing Hillcrest, the team dominated, especially Whitney Olson. Specifically called out as playing her best game by captain Taylor, saying "The person that stood out to me was Whitney Olson. She played the best game I've ever seen her play. The commitment and drive she showed was impeccable and I couldn't have asked for a better performance out of her! She definitely deserved that win, along with all of the girls, but she played her heart out."
Beating the Huskies was one thing, but as the team continued,it  became increasingly hard to keep the energy up and remain excited for every point scored. Looking forward to meeting stronger teams, the girls need to maintain focus and keep their spirits high regardless of scores and outcome.